There is a bizarre story making the rounds that John Elway's new financee, actress Paige Green, was previously engaged to King County Councilmember Reagan Dunn, and while I love juicy rumors like that, this one apparently turns out not to be true.
In reporting on the Dunn-Green engagement back in October 2006, the Puget Sound Business Journal described her as a "Hollywood actress."
Two powerful local families will merge, with the recent engagement of 9th District King County Councilman Reagan Dunn to Hollywood actress Paige Green ("Ray of Darkness," "Gory Gory Hallelujah" and more).
And that appears to be true.  I think.  But sports and celebrity blogs have described Elway's fiancee as the same Paige Green, with the same Hollywood resume.
Here's what I think happened.  The AP reports that Elway's Paige Green is a "former Oakland Raiders cheerleader," while the IMDb entry for Dunn's Paige Green also describes her as a "former professional cheerleader."  Perhaps either AP or IMDb is wrong.  Or they're both right, and it's just a confusing coincidence.
In any case, while they're both attractive, they don't really look all that much alike, and Dunn's Paige Green (on the right) appears quite a few years younger: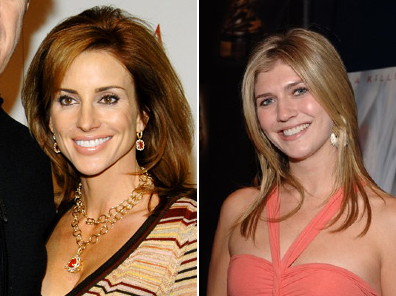 I've emailed Dunn asking him to set the record straight, but considering that his website says he and Paige were married in 2007, I'd say this rumor is pretty darn false.  Good for Reagan… bad for us rumor mongers.