While it appears that there will be no official flood of Hurricane Katrina evacuees to WA state, the disaster is still taxing local relief agencies, as victims find their way to our state on their own. Megan Hampson of the Seattle Red Cross just emailed me the following information in response to a previous query:
You probably already know that there are not going to be large number of evacuees sent to our state by FEMA. However I do want to let you know that we have had over 400 evacuees from the Gulf Coast walk in our front door and we are providing assistance and relief to more and more each day. I know that many Red Cross chapters in the state are also working with families who have lost everything. There is still a need for support for these families who were able to make it to Washington on their own.

Gifts to the Red Cross for Hurricane Katrina will go to all the victims of the Hurricane, regardless of what state they are in so please feel free to share that information. If you wish to target donations for evacuees in Washington State only, then you should make your check payable to the American Red Cross and write "DR081", the name of the Red Cross disaster operation in Washington State, on the memo line of the check.
So if you want to support the Katrina victims seeking refuge in WA state, make out a a check payable to "American Red Cross Disaster Relief Fund", be sure to write "DR081" in the memo field, and mail it to:
The American Red Cross Disaster Relief Fund
PO Box 24325
Seattle, WA 98124-0325
There are number of other ways you can help in the local relief efforts, so for more information, or to make a donation online or by phone, go to the Seattle Red Cross Hurricane Katrina Relief Effort page.
I would also like to remind all my readers that I will be co-hosting a Red Cross fundraiser Monday evening, September 19. The event was originally slated to benefit Ron Sims' reelection campaign, but Ron decided to change the focus to a worthier cause. You are all invited to attend… but for those of you who need an engraved invitation, this is the best I can do: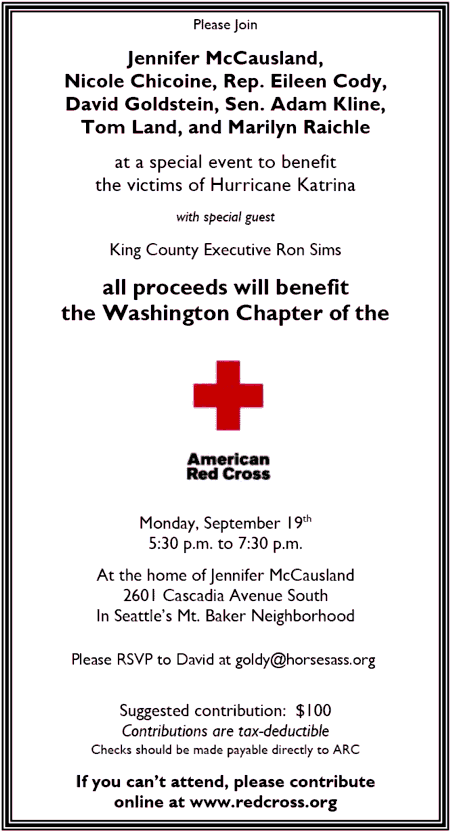 This is a great opportunity to meet Ron Sims (and, um… me), and have a glass of wine and some good conversation while helping a worthy cause. I hope to see you there, checkbook in hand. Please R.S.V.P.