Congratulations Frank Blethen… you just won yourself a tax break!
Yesterday the state Senate joined the House in overwhelmingly approving HB 2585 (only Sen. Rodney Tom voted nay), a bill that redefines for B&O tax purposes the term "newspaper" to include its online editions. The result is that revenue from online advertising will now be taxed at the special discounted newspaper rate of 0.484 percent, instead of the standard 1.5 percent rate currently charged. Although this tax cut will cost the state $3 million in the next biennial budget, I'm guessing Gov. Gregoire will quietly sign it into law, rather risk the ire of the state's editorial boards during an election year.
Kudos to Postman for risking his annual bonus by posting on this issue the other day, and extra special kudos to him for pointing out his bosses' hypocrisy:
Allied Daily Newspapers, the newspaper lobbying group, has been making the case for the tax cut. Meanwhile, newspaper editorial boards have been urging lawmakers to save money this year to prepare for lean budget times ahead.

The Times said the state could set aside $1 billion-plus and that lawmakers should cut spending until they have reached that goal." And the P-I, which is in a joint operating agreement with The Times, has said lawmakers have to prepare for hard choices, "even if that means holding back on some of the new spending being discussed …"
Our state's newspaper industry already costs Washington state and local governments $40 million per biennium with their sales tax exemption for newspapers, so what's another $3 million, huh? Meanwhile, we can make up the lost revenue by cutting health care for children, or the fat paychecks of our state's teachers. It's all about priorities.
But there's one more nefarious aspect of this bill that Postman and other Olympia observers have missed (or didn't seem to think it worthy enough to comment on.) Take a look at the language of the bill, and how it defines a newspaper: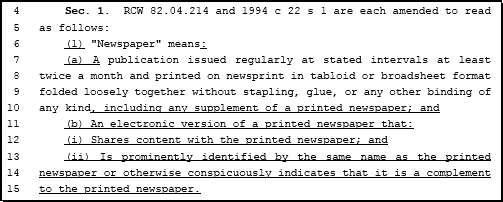 What that means is the Times gets the discounted 0.484 percent rate on ads served on Postman's blog, while dirty fucking hippies like me have to pay more than three times that!
Now, I don't generate nearly enough ad revenue from HA to pay a B&O tax, but I hope to someday, and this 20th century definition of "newspaper" secured by industry lobbyists is intentionally anticompetitive. Crosscut bills itself as an "online newspaper," and has gobs of venture money behind it, but because it doesn't actually print on "newsprint in tabloid or broadsheet format folded loosely together without stapling, glue, or any other binding of any kind," its owners must pay more than three times the tax rate as Blethen and his buddies. (That is, assuming Crosscut has any ad revenues. Or, um… readers.) Where is the sense in that?
Newspaper readership is relentlessly moving online, and there's nothing the industry can do to stop it; it's simply a more efficient and flexible way to deliver and consume content. But this shift in media consumption patterns also tears down longstanding barriers to market entry, creating the opportunity for bloggers like me to nibble away at the dailies' audience and influence, and the potential for new online news ventures to seriously vie for ad dollars with relatively little upfront investment. And so the newspaper industry has convinced the legislature to discourage and disadvantage new competition by charging them more than three times their tax rate.
I am as good a writer as anybody at the Times or the P-I; it is the quality of my writing that has always been the key to HA's success. That the Legislature should choose to penalize me and other entrepreneurs for publishing online rather than on dead trees is incomprehensible, especially in a state that has led the nation and the world in commercializing the Internet. It is offensive. It is insulting. And it will not stand.