With our good friend Stefan continuing to pound the anti-vote-by-mail meme, I thought it might be time to clarify the issue with a little visual aid. Following is a map of King County from the September, 2005 primary election, showing the percentage of votes cast at the polls, versus those cast by mail, broken down by council district: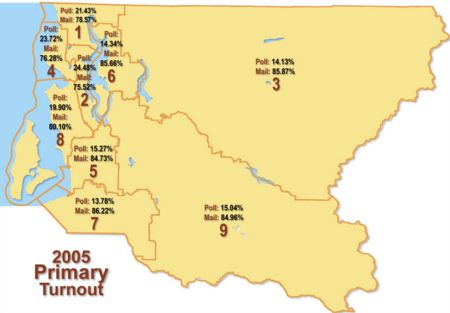 The small text is fuzzy, but a couple of patterns quickly emerge. First, it is clearly apparent that vote-by-mail has proven to be overwhelmingly popular countywide, with between 75 and 86 percent of voters choosing that option, depending on the district. Second, vote-by-mail has proven most popular in the more rural districts that comprise the heart of the county's Republican base.
What Stefan and other vote-by-mail critics would like to do is cast the current debate as a contest between vote-by-mail and traditional polling places… but that is a battle the marketplace has already settled. Thus, the decision before the King County Council is not whether to choose one or the other; it's whether to consolidate elections operations by largely eliminating the option that an increasingly tiny percentage of voters choose to use.
Stefan would like to eliminate vote-by-mail entirely, except for legitimate absentees, but that is a politically unfeasible option that simply is not on the table. Every election is in a sense a referendum on vote-by-mail, and it is hard to imagine the Council ignoring the clear sentiments of 85 percent of their constituents.
For better or worse, vote-by-mail is here to stay. The decision before the Council is not whether to expand it — that's happening organically — the decision is whether to continue to bear the cost and complexity of maintaining polling places that most voters no longer use.
And with all the posturing from Stefan and his cohorts that this is all part of some Democratic conspiracy to maintain an unfair electoral advantage, I point back to the map to show that if any party is reaping turnout benefits from vote-by-mail, it's the GOP.
So by all means, debate the issue fully, for any discussion of potential security concerns can only help to make the final implementation more robust and secure. But lets be honest about the decision before the Council.