Data for August 12th are now posted. The total signatures examined in completed binders is 48,299, or 35.1% of the total signatures turned in. There have been 5,121 invalid signatures found, for an cumulative rejection rate of 10.60%.
The invalid signatures include 4,491 that were not found in the voting rolls, 242 duplicates, and 388 that did not match the signature on file. There are also 21 signatures at various states of processing for a missing signature card. (For some reason the SoS office still counts these as invalid signatures; I ignoring them.) The 242 duplicate signatures suggest an overall rate of duplication of about 1.74%.
Using this V2 estimator, the number of valid signatures is expected to be 121,817 providing a buffer of 1,240 signatures over the 120,577 needed to qualify for the ballot. The overall rejection rate (which includes the projected total number of duplicate signatures) is about 11.53%.
To assess sampling uncertainty, I simulated petition samples, drawing numbers for each invalid signature type from a distribution that properly reflects the underlying statistical uncertainty. After 100,000 such simulations, 121,820 signatures were valid on average, and 95% of the simulations yielded 121,184 to 122,449 valid signatures. For 99.989% of the simulations the measure had enough signatures to qualify for the ballot. This number is an unbiased estimate of the probability that the measure will make it to the ballot.
The low uncertainty in qualifying for the ballot is easily seen as a picture. Here is the resulting distribution of signatures relative to the number required to qualify. Red bars (to the left of the vertical dashed line) means the measure is stopped. Green (on the right) means it qualified.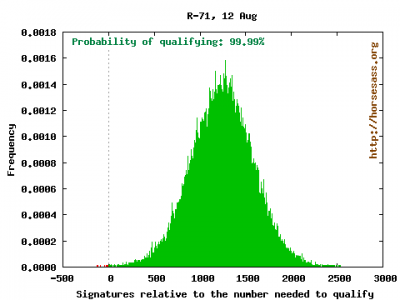 The data released by the SoS office, so far, suggests that the measure is likely to qualify with an excess of about 1,240 signatures. This projection does not account for potential errors other than sampling error.