In justifying the state Democratic leadership's decision to throw the WSLC under a bus as a convenient excuse for killing the controversial Workers Privacy Act, Senate Majority Leader Lisa Brown issued a statement saying we have to "draw the line" between the offending email and the "normal process."
Huh.  Which I suppose begs the question:  what exactly is the normal process?
Back in 2004, House Democrats sent a fundraising letter to business groups that had recently given more money to R's than to D's, exhorting them to balance their generosity… 
"As a result of our research, we would like to ask that you consider balancing out your contribution history by writing a donation of $10,000 to the Harry Truman Fund," concludes the letter obtained by the Seattle Post-Intelligencer. "We would very much appreciate your generosity and support as we gear up for the 2004 legislative session and impending campaign season.

"Our Leadership team wants to maintain our open door policy with you."
So, is that the normal process, encouraging the inference that money equals access?  House Speaker Frank Chopp seemed to think so, vigorously defending both the ethics and legality of his fundraising efforts.
"Since when is it a crime to talk about having an open door and bringing people together? … The only limit on me meeting with people is my time," said House Speaker Frank Chopp, D-Seattle. "That's hardly threatening language. … That's pretty soft language.

"And that's pretty common language."
No doubt.  So if that's the normal process, when did it become a crime for constituency groups to talk about withholding future financial support from politicians who refuse to support their agenda?  I thought that's the whole point:  we work for and give money to only those candidates who generally vote our way.  
Of course, Frank knows as well as anybody that this is the way the system works, and for all the effort to make labor look like the unethical bad guys here, it is the business lobby that has recently honed influence peddling into one of Olympia's most profitable professions.  So profitable in fact, that one of the lobbyists who brokered Boeing's $4 billion 7E7 tax break, conducts workshops teaching other businesses how to "Turn Your State Government Relations Department from a Money Pit into a Cash Cow."
The seminar, presented during a portion of the annual three-day meeting of the State Government Affairs Council, taught dozens of corporate government-relations executives how to "Turn Your State Government Relations Department from a Money Pit into a Cash Cow." Michael Press, national director of Ernst & Young's Business Incentives Practice, and Robin Stone, former vice president of state and local government relations for The Boeing Company, delivered the Microsoft PowerPoint-supported presentation March 26 in Savannah, Ga.
The presentation includes a long list of "negotiable incentives" along with such such helpful tips as "control publicity," "avoid legislation if possible," and "be mindful of the election cycle," while encouraging businesses to make a "but for" the incentives threat.  (You know, "but for a multi-billion dollar tax break, we're moving all our jobs out of state.")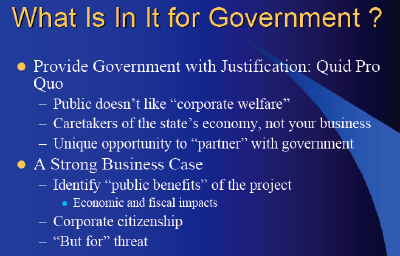 Turning your state government relations department into a cash cow is perfectly legal, and just plain smart business, and from the lack of moralizing on the part of our politicians and opinion leaders, I can only assume that it is perfectly ethical as well.  So what's so wrong, by comparison, about labor using the resources at its disposal to influence the legislation it wants? Why shouldn't unions be able to say what we all understand to be true:  "If you don't support us, we won't support you?"  
Ethical or not, isn't that the "normal process?"