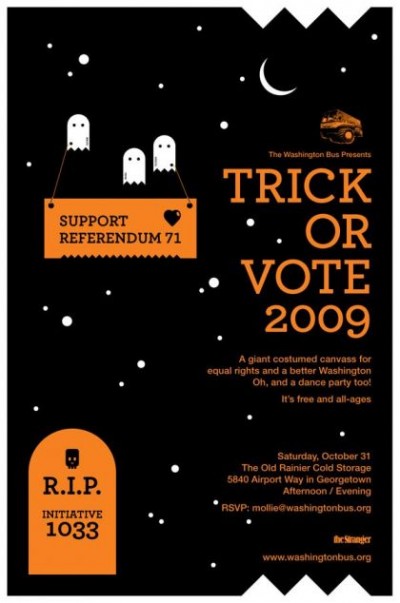 As usual, I'll be dressed up in my scary Tim Eyman costume, trick or treating with my daughter, and frightening the neighborhood kids, but if you don't have plans and are looking for a fun and productive way to celebrate the holiday, I suggest you check out this year's Trick or Treat canvassing party thrown by the Washington Bus:
This year, we're partnering with the Approve Referendum 71 campaign and the No on 1033 campaign to present Trick or Vote in both Seattle and Spokane. For the Seattle event, Trick or Voters are meeting up at the Old Rainier Cold Storage in Georgetown (5840 Airport Way S) at 2:00 for a brief training before heading out to all corners of the city to talk to voters about turning in their ballots, voting yes on Referendum 71 and against Initiative 1033. In Spokane, attendees will gather at the Community Building Warehouse (17 W Main Avenue) before fanning out across town.

And of course, there's an afterparty. It's going down at Old Rainier Cold Storage, with free food, drink (for those of age), music by Selector Tang, and dancing by everyone. All free, all ages, all good.
Have fun!