Read the headline, teaser and five-sentence story accompanying it at the top of the Seattle Times' home page this afternoon, and you could be excused for thinking that Sound Transit has suddenly found itself in some deep shit. In fact, you might even be downright angry at the implied notion that Sound Transit might have misled voters last fall, and will soon have to come back for even more money.
You'd be wrong, but it wouldn't be your fault. Rather the blame lies squarely on one of the stupidest bits of reporting, editing and headline writing I've ever had the displeasure of reading in the Times… and considering it's the Times, that's a pretty high bar.
Sound Transit isn't "forecasting a loss," they're forecasting revenues coming in at $3.1 billion below original projections over the next 15 years… which is about $1 billion lower than the previous revised forecast. That's not a loss, as you can't lose something you've never had. Indeed, Sound Transit couldn't possibly show a loss this year or the next or over the next 15… it's a government agency, not a business, and government agencies just don't work that way; they can only spend the dollars they have!
Furthermore, despite the lower forecast, Sound Transit still believes it can deliver the services promised, and on time. How? Well, despite all the naysayers, their budgets have long been on the conservative side, with fairly deep built-in reserves. Due to the recession, these reserves don't leave much wiggle room anymore, but that's why they're constantly redoing their revenue forecasts… so that they have time to react to changing circumstances and respond accordingly.
And, now that they know that revenues are coming in significantly lower than projected, they'll adjust their design and engineering to reflect the new fiscal reality. That means new stations may become standardized and not quite so fancy. Meanwhile, expensive changes and alternatives, however politically expedient, are much less likely to be adopted. They'll also be force to be more creative in looking for savings in operations. (UPDATE: Seattle Transit Blog has more.)
But they are not, as the Times irresponsibly implies, operating in the red, to the tune of $3.1 billion or any other number. That's just plain wrong, stupid, and in my opinion, an inexcusable reach for a sensationalist headline that does nothing but misinform the public.
UPDATE:
The Seattle Times has changed the headline to the more accurate "Sound Transit to collect $3.1B less." That may not be as sexy as the first headline, but it has the virtue of being based in fact.
That said, I'm still at a loss to explain how the Times editors could have possibly gone with the first headline without realizing the obvious false impression it would make on readers. I mean really, it couldn't be interpreted any other way. Meanwhile, for those of you who would still prefer to spin this into a story of Sound Transit mismanagement or dishonesty, here's a graph from today's revised forecast that tells the whole story: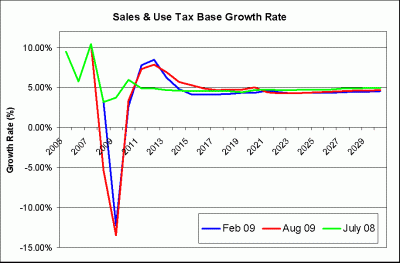 Of course, this is also the story behind the revenue woes at every agency at every level of government throughout the state and the nation. Those who blame budget woes solely on profligate spending while ignoring the revenue side of the equation, quite simply have their heads up the ass.