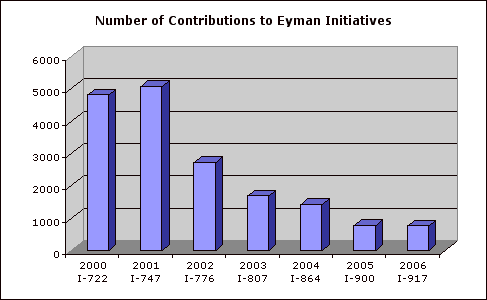 Just to briefly follow up on my earlier post, I thought the chart above might clearly illustrate just how little grassroots support Tim Eyman enjoys these days. The chart is drawn from PDC data, and shows the number of individual contributions to Eyman's initiative campaigns from 2000 through 2006.
As you can easily see, Timmy's support has steadily declined since contributors first learned that he was secretly pocketing their money… and lying about it. (It is also interesting to note that of the seven initiatives charted, only one, I-900, remains on the books — and it has absolutely nothing to do with cutting taxes.)
No wonder Tim has been reduced to begging for food:
URGENT: Please help us raise funds. Can you arrange a lunch or dinner at your home or at a local restaurant with a few other potential donors attending? Great chance for us to meet, talk, answer questions, and explain the latest initiative and talk about ideas for future initiatives.