I spotted this at the Washington State Democrats annual Holiday Party last night: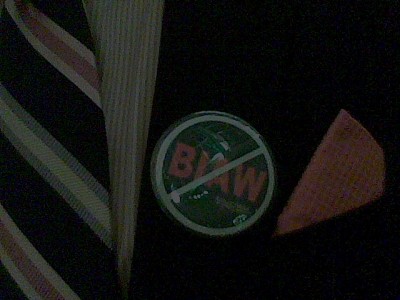 The BIAW (Building Industry Association of Washington) was one of GOP gubernatorial candidate Dino Rossi's biggest supporters (over $6 million) this election season.
So, wearing an anti-BIAW pin at the Democrats' Holiday shindig oughta be no big deal, right? Ha. 
This was a shoe thrown over the lectern aimed directly at Democratic State House Speaker, Frank Chopp (D-43, Wallingford).
Democratic Rep. Brendan Williams (D-22, Olympia) was wearing the defiant pin and said he's not running again because Chopp has neutered the Democratic agenda in Olympia by cozying up with the BIAW.
Rep. Williams has been the main victim of  Chopp's alliance with the BIAW: Two years running, Williams's homeowner bill of rights has been killed at the last minute by Chopp. The BIAW was upset that homeowners would have the basic right to sue for faulty construction.
Chopp also killed my favorite progressive bill last session: A Senate bill that added climate change impacts into growth management standards so that development projects had to be environmentally responsible. The BIAW didn't like that one either.
Rep. Williams wasn't the only Democrat dissing Chopp. I was talking to a Democratic state Senator about the 2012 governor's race. We were handicapping state Senator Lisa Brown's (D-3, Spokane) chances vs. U.S. Rep. Jay Inslee's chances, in what's likely to be a bruising primary between the two anticipated candidates. And could either one beat GOP media darling, AG Rob McKenna?
"McKenna will be the Republican nominee, right?" I asked.
The Democratic Senator quipped: "Who knows? The GOP could run Chopp."