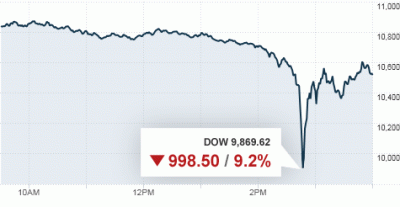 That half-hour, thousand-point, momentary drop in the Dow Jones Industrial Average today? Oops…
In one of the most dizzying half-hours in stock market history, the Dow plunged nearly 1,000 points before paring those losses—all apparently due to a trader error.

According to multiple sources, a trader entered a "b" for billion instead of an "m" for million in a trade possibly involving Procter & Gamble.
During this afternoon's half-hour ride, P&G fell from $60 to $39.37, then back again, eventually closing at $60.75. But that was nothing compared to Accenture, which over the course of a single minute plunged from $40 a share to one penny. Accenture shot back up to close at $41.09, down 2.6% for the day.
How fucked up is this? Both NASDAQ and the NYSE have announced that they would cancel all trades were a stock moved more 60% from it's price at 2:40 PM, but there are sure to be parties who will have made or lost fortunes on today's market… um… "glitch."
So yeah, I guess the Republicans are right… Wall Street doesn't just doesn't need government regulators getting in the way of its smooth operations.