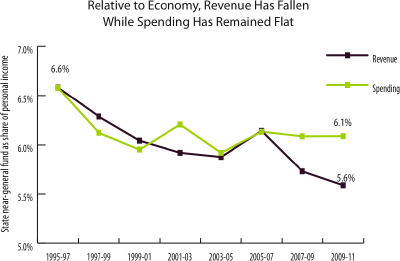 As I have repeatedly stated, there is no state budget deficit, despite the claims of Dino Rossi and his (perhaps unwitting) collaborators in the press. Our current budget is actually running a small surplus, and the next biennium budget will be balanced, as is constitutionally required.  The question facing voters is not if the budget will be balanced, but by whom, and based on what priorities.
To call a revenue forecast a "budget deficit" is thus inexcusably misleading, as when one thinks of budget deficits, most voters think of the enormous federal deficits (only made even more enormous by the Bush administration) in which our government borrows money to pay for expenditures that far exceed tax revenues.  That can't happen here in Washington state, under any administration, and to suggest otherwise, even through semantic inference, is simply irresponsible.
And it is equally irresponsible and misleading to suggest, as the amen editorialists at the Seattle Times relentlessly insist, that this projected $3.1 billion revenue deficit—the difference between projected growth in state revenues and projected growth in state expenditures at current levels—is the result of profligate spending on the part of Gov. Chris Gregoire, when in fact, as the chart above clearly illustrates, it is simply the result of declining state revenues.
According to a policy brief prepared by the Washington State Budget & Policy Center, while remaining relatively flat for the past decade, state spending has declined from 6.6% of personal income in 1995 to 6.1% at present.  Meanwhile, state revenues as a percentage of personal income will decline from 6.6% to a projected 5.6% by 2011.
Yes, our revenue deficit has been exacerbated by a worsening economy, just as the problem was masked by the boom years, but the real culprit here is not out of control spending, but rather a long-term structural revenue deficit that results from a tax system that overly relies on a steadily shrinking segment of our economy: the sale of goods.
This is a fact—a fact that is constantly and conveniently ignored in press accounts of this issue—and unless we eventually fix this structural deficit, preferably by shifting to a fairer tax system that doesn't leave WA the most regressive state in the nation, our state government, and the services it is able to provide, will steadily shrink, regardless of which party controls the legislature or the governor's mansion.
If the Times is looking for a legitimate budget issue on which to attack the governor, it is not state spending, which during her administration has thus far grown in virtual lockstep with growth in revenues and growth in our state economy.  Rather, the most substantive critique of Gov. Gregoire comes from the left, where she has disappointed fair tax advocates by failing to take the lead on much needed tax restructuring.