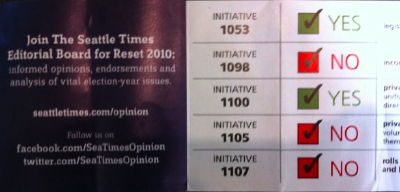 Seattle Times home subscribers found this helpful cheat sheet stuck to the front page of their Sunday edition, but when one of the initiative campaigns the Times opposes called to purchase something similar, they were told no, political advertisers can't buy these sort of stickers, at any price.
It can only be given. Because ownership has its privileges.
Once again proving my point that it's not bias that is the problem with modern media, but ownership. For as long as our media continues to be dominated by wealthy corporations and individuals, it will continue to largely reflect and serve their own selfish interests.