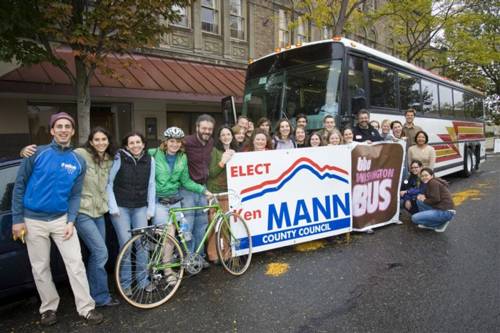 Scary progressives launch preemptive invasion of Bellingham
The Washington Bus rolls into Tacoma Saturday morning (details here,) to doorbell for Tacoma City Council Candidate Marilyn Strickland, and you can be sure that the local righties will be all aghast at the "out-of-towners" and "special interests" invading Tacoma to influence their precious "non-partisan" election. (Don't the smiling young folks in the picture above look scary?)
This is a theme that has grown quite popular with Republicans throughout the region this campaign season, as they watch their political prospects steadily shrink. When the Bus made a trip up to Whatcom County a couple weeks back to doorbell on behalf of County Council candidate Ken Mann, local Republicans flew into hysterics, launching a whisper campaign warning of a "National Socialist Organization that is Supported by Hanoi Jane Fonda." On Mercer Island, where my ex-wife, Maureen Judge is running for City Council, wide-eyed righties stand up at candidate forums, frantically waving Progressive Majority print-outs, a la Joe McCarthy and his "list" of known communists. In Bellevue, incumbent Councilmember Phil Noble unsuccessfully pleaded with the 48th District Democrats to withhold their endorsement of his opponent Keri Andrews, claiming it would be an inappropriate intrusion into their non-partisan race. (Noble is so non-partisan that he gave a second contribution to Republican Jane Hague… after her drunk driving incident was made public.) And of course in the region's marquee race, Republican Dan Satterberg has made non-partisanship the central theme of his campaign for King County Prosecuting Attorney, even promising to lobby to officially change the office to non-partisan, should he be elected.
Why the fearful reaction to progressive organizers, and the sudden public embrace of non-partisan ideals? Because in a region where Republicanism has been discredited perhaps more thoroughly than anywhere else in the nation, these nominally non-partisan races are the only chance most Republicans have of ever holding public office.
Non-partisanship has become the last refuge of political losers.
After twelve years of corrupt congressional rule, an inept and contemptuous Bush administration, and the collapse of the Eastside GOP, the red "R" has become a scarlet letter few Puget Sound Republicans are eager to wear, and the growing chorus of protestations against the politicization of non-partisan offices should be understood in this context. For decades conservatives have dominated these local races using the cloak of non-partisanship to hide their very partisan agenda, resulting in a virtual Republican lock on councils and school boards in otherwise Democratic districts. Ironically, the grassroots tactics employed by organizations like Progressive Majority and Washington Bus are largely those that were pioneered by conservatives decades earlier.
In fact, non-partisanship has always been a lie… a sham… a fiction, in which even the most casual observer could generally pick out the players without a program. We all know who the liberal and conservative justices are on the state Supreme Court, and we're usually pretty damn sure about party identification. Likewise non-partisan councils and school boards throughout the region routinely factionalize along ideological if not party lines. Party identification reflects the candidate's values and judgment, and it is not only dishonest, but fundamentally undemocratic to hide these labels from voters.
It has oft been written that our nation's founders were uncomfortable with the notion of political parties, but they created this framework nonetheless, and in so doing helped create the greatest political, economic and military power in the history of the world. While America may not have invented the notion of "the loyal opposition," it was here that it reached full fruition, for by institutionalizing a public debate in which endless argument is embraced as patriotic dissent rather than a treasonable act, our nation has managed to achieve a degree of political stability that is the envy of people everywhere.
Indeed, it is not less partisanship that is needed, but more… a truth self-evident in the familiar groans of self-described independents and third-party fantasists who routinely complain about the lack of difference between the two major parties. Of course, at the policy level, nothing could be further from the truth, but the general failure of Democrats to forcefully distance themselves from the conservative rhetoric that dominates public discourse, only sows such confusion.
Politics, like the law, is an adversarial process, and if one side is less dedicated to winning than the other, then the entire system fails. The Republican brand is tarnished for a reason, and GOP fortunes deserve to be punished accordingly. If we meekly allow them to tear off their scarlet letter and masquerade as non-partisan, we will be doing ourselves and the electorate a great disservice.