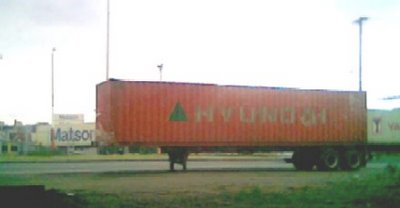 Drop a backpack in a garbage can on a Washington State ferry, and you will shut down the system for hours, as officials evacuate the ship and X-ray the suspicious bag for explosives. So what happens when you leave a 40-foot shipping container, unattended by a highway overpass?
This is a Hyundai container, destined either to or from Terminal 5, but is not going anywhere. There is no semi-tractor in sight, and the container is parked next to the highway 99 overpass, just a few hundred feet from the West Seattle bridge, which are two main highways that connect all of south and west Seattle, to downtown via the Viaduct. I find these things from time to time stretching along the main drags that run through Georgetown. This container is sitting on a patch of gravel across the street from Terminal 25 on East Marginal Way, just a stone's throw from their gate security office.
Perhaps this is the real Port scandal… the 95-percent of containers that go uninspected, and the lax security and lack of accountability throughout our entire shipping and trucking industry?