Last month, as part of the celebration of HA's 9th anniversary, Darryl walked us through Nine years of HA trolls. It was quite the stroll down memory (some might mispronounce it marummy) lane.
Coming in as #5 on Darryl's troll hit parade was the priggishly self-righteous Piper Scott, aka Scott St. Clair, an "investigative journalist" once (still?) employed by the odious Evergreen Freedom Foundation. His self-important droppings have been seen in many Washington state online venues, from Crosscut to some minor blog called unSound Politics (or something like that).
Some have suggested that blog commenters like St. Clair — right-wingers whose primary purpose appears to be incessantly inflammatory and/or derogatory on liberal or progressive blogs — are somehow paid to interfere with civilized discourse. I've seen that supposition confirmed only once, in the case of Kevin Carns, professional troll, one-time Political Director for Washington's House Republican Organizing Committee and Executive Director of The Speaker's Roundtable (the WHROC's PAC). He haunted HA in its early years.
The evidence regarding St. Clair's status as a professional troll may have been strengthened by something I chanced upon today. I was looking at some of the numerous testimonials and remembrances of the recently-departed Senator from New Jersey, Frank Lautenberg. I grew up in the Garden State, so big events there always interest me. I first registered to vote in New Jersey, and my first Federal election ballot in 1972 included the very same Class 2 Senate seat held until this week by Lautenberg. (I voted proudly and happily for Clifford P. Case, the incumbent Republican Senator … one of only two GOP votes I've ever cast.)
In reviewing the obituaries, I chanced upon one in NorthJersey.com, the website of the Bergen Record. The Record is a daily publication in Bergen County, located in the upper-right corner of the state, directly across the Hudson River from Manhattan. With the innumerable major media outlets right across the river, it's really a minor part of the press presence in New Jersey, perhaps a step or two above a community newspaper. So imagine my surprise when I glanced at the comment threads and saw this [click on the image to enlarge it]: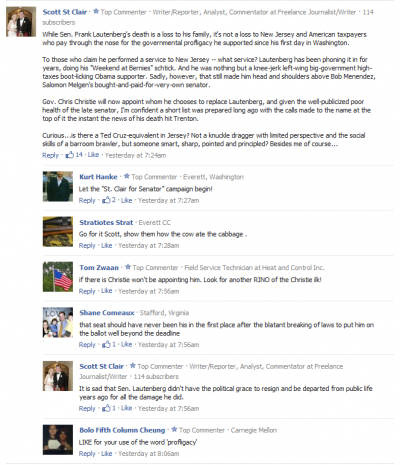 Why in the world would a guy from Washington write a lengthy (and derogatory) comment on the website of a minor newspaper in New Jersey? Why would he have "Top Commenter" status there? Why would he have 114 subscribers to his comments on that website, a continent away from his home?
Across the nation, there must be hundreds and hundreds of media websites on a par with NorthJersey.com. How many of those list The Piper as a heavily-subscribed Top Commenter? If he isn't being paid to troll obscure websites all around the country, what possible reason could he have for being there?
I'm amused that the first two replies to St. Clair's comment list their locations as "Everett, Washington" and "Everett CC". Not only does The Piper ride teh intertubes clear across the country, he brings a couple of fanboys with him!
If there are paid wingnut commenters, I suppose that some liberal/progressive blog commenters must also exist. There can't be as many lefties as righties, though. Just about every newpaper, television, and radio website is populated overwhelmingly by conservatives, libertarians, and worse. I used to think that most of those were local crazies venting their spleen, but perhaps I was wrong.