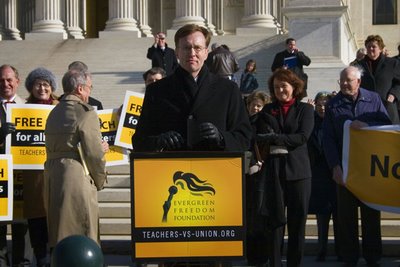 Evergreen Freedom Foundation attorney Rob McKenna made a splash in the other Washington last week arguing before the US Supreme Court against the rights of unions. (McKenna also apparently freelances as our State Attorney General.)
Why would such an ambitious politician (he wants to be President) calling from one of the most pro-union states in the nation risk political capital defending the union-busting EFF? University of Washington Political Science Professor David Olson has a theory:
Olson described the case as one that will "nail the base" of state GOP voters because it gets "the red-meat juices flowing." And although it's likely to anger the trade-union base of Washington Democrats, Olson believes the case is likely to "fly below the radar screen" of most of the state's independent voters whom McKenna courts.

"McKenna has calculated that the net gain to his base from supporting this case is greater than his net loss of pro-union support," said Olson, who has been tracking McKenna's political career for the past 20 years since his days as student council president at the University of Washington.
Yup, that's McKenna for you, a shrewd political operator willing to play to his conservative base when he can get away with it, while masquerading as a centrist when it suits his purposes. McKenna's also done an incredible job courting the press, who have largely rewarded him with uncynical and uncritical coverage. As such, he has become the most dangerous Republican in the state.
The state Dems need to hire somebody full time just to track McKenna and stick a few wrenches in his slick, professional PR machine. It'll be an investment well worth the time, effort and money.