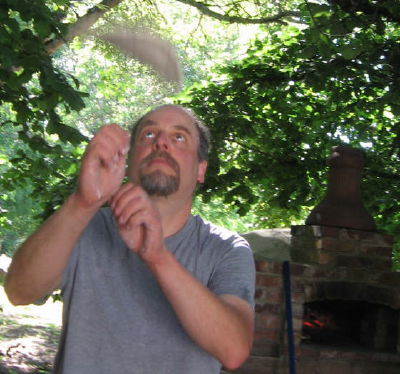 My daughter and I are back from Brownsville, Oregon, after our annual orgy of small town Americana—a 4th of July weekend filled with horseback riding, softball, fireworks, swimmin' holes, community pancake breakfasts… and of course, about five and a half hours straight of tossing pizza by a backyard, wood fired oven.
And let's not forget the beer, a keg of some hoppy, ever-so-slightly fruity elixir from Ninkasi Brewing in Eugene.
Yum.
Now some might argue that the way we Americans tend to celebrate our nation's birth—with fun and food and lots and lots of beverages—somehow trivializes our founders' daring and dangerous struggle for independence, and the many hardships they endured, but I'd argue exactly the opposite. For what freedom is greater, and more worth celebrating, than a freedom we are free to take for granted? And what better way to honor this freedom than to do exactly that?
We live in the wealthiest, most powerful and most secure nation in the history of the world. I hope you enjoyed America this weekend as much as I did.