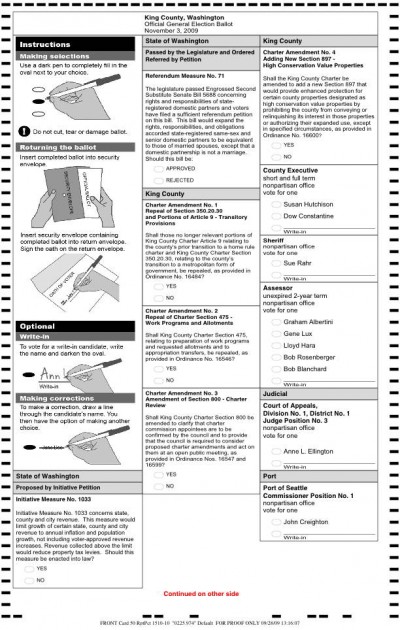 Much has been made of the placement of  Tim Eyman's Initiative 1033 on the King County ballot, somewhat hidden below the instructions on the left-hand side of the page, visually separated from the rest of the ballot questions. I-1033 opponents had raised alarms that this poorly designed ballot layout might depress the vote on the measure in our state's most populous and anti-1033 county, causing many voters to miss the question entirely. And now that a large chunk of the results are in, it is clear that their fears were well founded.
Indeed, I-1033's placement on the King County ballot is destined to become a classic case study in how ballot design can dramatically influence election outcomes… right up there alongside Palm Beach County's infamous butterfly ballot.
In Washington's 38 other counties, about 2.8% of ballots have thus far failed to register a vote on I-1033, a pretty typical "residual vote rate" for a high profile, statewide initiative. But in King County, a full 9.8% of ballots have thus far failed to record a vote for I-1033, a very statistically significant falloff from the statewide average, and entirely out of whack with the county's historical performance on other such ballot measures.
The "residual vote rate" measures the total number of ballots for which no vote is recorded in a particular contest due to uncounted, unmarked or overvoted ballots, and as such it is often used to measure the effect of different voting technologies and interface designs on the incidence of lost votes. Of course some portion of the residual vote rate is due to voters choosing not to cast a vote in a particular race, a factor that can be fairly pronounced in low profile, down-ticket races. But voter choice simply cannot explain the extraordinary King County discrepancy.
A quick glance at this and other elections reveals that I-1033's residual vote rate in King County is not only unprecedentedly high for a top-of-the-ticket measure, its huge variance from the statewide average is absolutely unheard of. For example, the equally high profile Referendum 71, appearing on the same ballot as I-1033, registered a 1.7% residual vote rate in King County, closely matching  the 1.8% rate for the state as a whole. Likewise, 2007's I-960 — also a government limiting Eyman initiative, that also ran in an off-year election — recorded a 2.9% residual vote rate in King County, right in line with the 3.1% rate statewide.
Historically, residual vote rates for high profile statewide ballot measures simply do not rise much above a few percent, and they certainly don't vary by more than a couple percentage points from county to county.
Until now.
So what's to explain the fact that nearly one out of every ten King County ballots fail to register a vote for or against I-1033, a rate nearly two and a half times the statewide average? With 38 of our 39 counties now voting exclusively by mail, and most or all using the same mark sense technology, there can be only one explanation: poor ballot design… a visually confusing layout that inadvertently disenfranchised 7% of King County voters.
To put that in perspective, based on turnout projections, about 42,000 King County voters will have failed to vote on I-1033 simply because they didn't find the question on the ballot, and with voters here overwhelmingly rejecting the measure 67% to 33%, this ballot-induced residual vote will end up costing the No side about 14,000 votes from their final statewide margin. Had this been a closer race, ballot design very well could have determined the outcome.
Ever since the disputed 2004 gubernatorial election, Republicans have howled in outrage over the bare handful of cases of known ballot fraud, demanding ever more restrictive and onerous procedures on both registration and voting. But as I have argued from the start, the real and present threat to our electoral process comes not from ballot and tabulation fraud — the evidence of which in Washington state is fleeting or nil — but from voter intimidation and suppression, intentional or not.
However pedestrian or accidental the cause, 42,000 King County voters were just disenfranchised, and yet we've heard nary a peep from the usual election reform suspects. Makes one wonder how much they really cherish our right to vote?