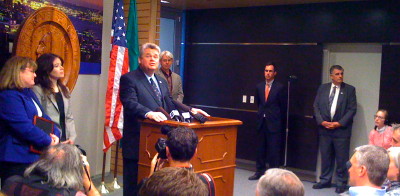 Mayor Nickels has conceded, and gracefully. (And no, he's not all that fat; I just liked the pun.) More later.
UPDATE:
I'm back home now, after conveniently riding light rail back and forth to City Hall (you know, the light rail line Mayor Nickels staked his political capital on building), and while I'm waiting for some video to load, I thought I'd just add a few more observations.
As I initially wrote, Mayor Nickels' concession was quite graceful, but it was also self-effacing, forthright, and at times both funny and touching. There's no doubt a lot of of folks don't much like the mayor—Tuesday's election was a testament to his unpopularity—but had more voters seen this downright likable side to Nickels, I wonder if he would have been giving a concession speech this morning?
I for one thought this race would in the end come down to competence, and thus I never really believed Nickels would lose in the primary, as despite the incessant whining about snow removal and a few bad curbs, he's proven to be a pretty damn competent mayor, with no hint of personal corruption. In terms of basic infrastructure—roads, rail, schools, fire stations, parks, play fields, etc.—Seattle is a better city than it was eight years ago, and so I guess I never really took seriously public discontent with the mayor himself.
I guess I should've known better.
Voters elect people, not issues, and apparently, not enough primary voters liked the mayor enough to get him through to the general. Perhaps if his campaign had done a better job of defining Nickels as a human being, the results might have been different. Or perhaps it was already too late.
Whatever.
I can think of a lot of reasons why one might want to kick out the mayor. I just come away thinking he was kicked out for the wrong reasons.