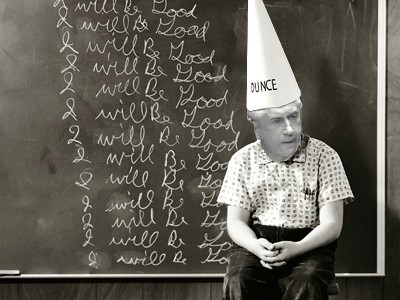 How Dave Reichert's C Grade Voting Record Turned Into an NEA Endorsement
By Josh Feit
Apparently the National Education Association grades Republicans on a curve. Consider: Suburban Washington state Democratic U.S. Reps. Jay Inslee (D-1, WA) and Adam Smith (D-9, WA) earned A's for their 2007 voting records. Makes sense. Inslee voted the union's way over 90 percent of the time and Smith voted the union's way 100 percent of the time. Suburban Republican Rep. Dave Richter (R-8, WA) got an A for the session too. But he only voted the union's way 69 percent of the time. (According to the NEA's official grading scale, you need to vote with the union at least 85 percent of the time to get an A. Reichert's score, between 55 and 70, should have actually rated a C.)
Perhaps Reichert came into the session with some extra credit. In the previous term, he joined the Democratic majority by voting against a "merit pay" pilot program. Merit pay—tying raises to student performance—is anathema to the teachers union.
Randall Moody, the NEA's chief lobbyist, told me: "It's not fair to link pay to things like test scores. It's unrealistic. There are a lot of other factors. Did the child have breakfast that morning? Do they come from a dysfunctional home?" Elaborating on the NEA's opposition to merit pay, Moody also asks, "Who judges? What's the criteria?"
Along with Reichert's "A" grade, his opposition to merit pay, which he reiterated in his endorsement interview, was one of the factors leading the NEA to endorse Reichert over Democratic challenger, Darcy Burner, earlier this year, according to Lisa Brackin Johnson, the head of the Kent Education Association and one of the members on the Washington Education Association (WEA) endorsement board. Brackin Johnson also reports that Burner told the union she wasn't against merit pay. "Burner didn't understand the issue," Brackin Johnson says.
The endorsement was atypical for the teachers union, which usually backs Democrats. Like John McCain, Reichert, who votes with the Republican majority position 88 percent of the time according to an analysis done in 2006 by the Democratic blog "On the Road to 2008," has been trying to portray himself as a more independent Republican this election season. He has wisely been hyping the NEA's stamp of approval on the campaign trail.
If the press had taken a closer look at the curious NEA endorsement, they would have found that in addition to Reichert's inflated grade, it's Burner who's behaving independently. Burner is bucking A-student, WEA Washington Democrats like Inslee and Smith, and the rest of the local Democratic roster—Reps. Rick Larsen, Brian Baird, Norm Dicks, and Jim McDermott. Washington's Democratic House members consistently voted with the monolithic, union-friendly Democratic House caucus to defeat the merit pay bills repeatedly sponsored by Republican Rep. Tom Price (R-GA, 6).
"During her interviews she didn't rule out the possibility of paying good teachers well if there's evidence that it could provide a better education for kids in the district," Burner spokesman Sandeep Kaushik says. "She was honest with the teachers when she met with them. Like Sen. Obama she believes we should not rule out reform options."
Democratic presidential nominee Barack Obama has also bucked the traditional Democratic line. He supports merit pay programs.
Isn't Reichert bucking his caucus too by telling the union he's against merit pay? Hard to say. While he did vote against the merit pay measure in 2005, and while he did tell the WEA he didn't support merit pay during his endorsement interview, he actually voted for a separate merit pay bill in 2007.
Despite several requests, Reichert would not comment for this article.
According to Brackin Johnson, Reichert believes it's unfair to gauge a teacher's year-to-year performance on the success of his or her students because groups of kids differ from year to year in ways that are beyond the teacher's control. For example, social issues outside the classroom may impact students' ability to do well in the classroom. Brackin Johnson suggested that Reichert, as a former Sheriff, has a keen sense of the issues that affect kids outside the classroom.
There were certainly other factors in the WEA's decision to endorse Reichert over Burner. Reichert told the endorsement board that No Child Left Behind is an "unfunded mandate" that needs to be reformed. And the WEA "contact team" says he's become newly accessible to WEA lobbyists. This is an encouraging turnabout from his first term, they say. The change, the union says, was reflected in his improved voting record. "He listens to us," Brackin reports. (This is a reference to Reichert's recent "A" grade—again, 69 percent—an improvement over his 35 percent score from his first term in Congress.)
WEA spokesperson Rich Wood also cited Reichert's "A" as the reason the union endorsed him, highlighting Reichert's vote to override President Bush's children's health care veto; Reichert's vote to lower student loan interest rates; and a vote for Head Start, the $6.8 billion program for low-income school children.
However, while Reichert did vote to reauthorize the Head Start program late last year, he also voted for an earlier amendment (it failed) which the NEA opposed because they believed it would have limited access to the program. And in 2005, Reichert voted for a successful amendment to the Head Start reauthorization bill that allowed religious groups participating in the federally funded program to hire and fire based on religious grounds. The NEA (and the ACLU for that matter) opposed the amendment.
The chief lobbyist for the NEA, Randall Moody, did explain Reichert's "A," telling me that in addition to voting records (which can often be complicated by partisan traps) they add things like how accessible a Rep. is to NEA lobbyists." It's a fairer evaluation of a member's support for public education," Moody says.