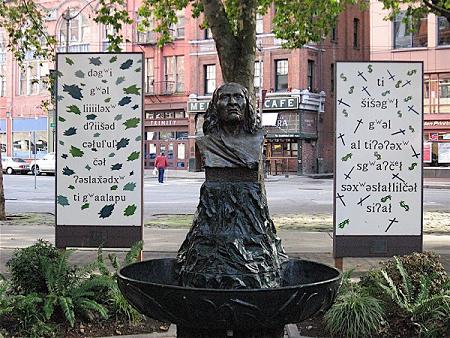 I'm not talking about the sculpture of Chief Sealth, which I like just fine. (It's the one in the middle) But what the hell are those boards behind him on either side? They look like they were done by a bunch of eighth graders drunk on grape soda.
Leaves, dollar signs and crosses. Lemme guess… dollars signs and crosses are bad, leaves are good.
Really, folks. Chief Sealth was a great Native American, to whom the current residents of this area owe a great deal. We certainly owe him more than this underwhelming art installation.
What bugs me the most was that somebody approved this. Since this is Seattle, the decision was probably made not by an individual but by a group of people.
To be a fly on the wall at that meeting…
1st Guy: Look folks, we've got to finalize a design for this Chief Sealth art thing. Any ideas?

2nd Guy: How about something in bronze with ornate inlays, done by skilled craftsmen with an eye for detail. Creative consulting work by members of the Duwamish tribe. Something classic yet modern, accessible and informative. Something that remembers Chief Sealth for who he was and preserves his memory for years to come.

1st Guy: That's good, I'm liking it. Anything else?

3rd Guy: How about we run down to Home Depot, get some paints and some plywood, and have my kid's eighth grade class crap something out for us. I'm thinking something like-

1st Guy: Stop there, Bob, you've struck gold. Don't say another word because that is genius.
While some of you might say, "hey asshole, who asked you to be the big critic guy of all the art?" Folks, we're not talking about the crappy turd-shaped ash trays you made for your parents in ceramics class. This art display is in a city park. A park you pay for! That means it's fair game for me, or anyone else, to have a go at.
Some bureaucrat approved this thing, and it's my right (no, duty!) to speak truth to power. Downtown residents like myself deserve better than this!
UPDATE [Lee]: What is written on those things anyway? I can't find anything using Google. I'm pretty sure there are no actual languages with question marks and superscript w's.
UPDATE [Lee]: OK, I found it now, it's definitely a real language. Check this page out.
What do the signs say? I have no idea.
UPDATE [Lee]: This is the last one, I promise. I'm learning a lot today. From commenter "Smartypants":
The languages are Lushootseed (front) and English (back). Lushootseed is the local dialect of the Coast Salish language that was used by the Duwamish people.

English translation Panel on Left: Chief Seattle Now The Streets Are Our Home

English translation Panel on Right: Far Away Brothers and Sisters We Still Remember You

Here's the explanation of the work: "With the sculpture Day/Night the theme of the porcelain panels seeks to proclaim that for many transient inter-tribal people the streets of Seattle are home. Secondly it is declared that although these tribal citizens have sought refuge in the urban centers which have sprung up on Indian Territory around them, the far rural tribal communities from which the originate hold each and everyone's memory in close and high regard."