I've used the term "structural deficit" a lot over the past few years, only to have it pooh-poohed by the anti-tax/anti-government reactionaries on the right, so I thought it might be useful to spend a little time discussing exactly what I mean.
Washington state relies on the sales tax for about 56.5% of general fund revenues, one of the highest ratios in the nation, and yet as this study paper produced by Economic Opportunity Institute cogently explains, our sales tax base over time gradually represents a smaller and smaller portion of our overall economy.
The sales tax base is growing more slowly than demand for state investments and the economy overall. Historically, sales taxes have been applied to goods and not to services. However, personal spending on services is steadily growing, and spending on goods is falling as a percentage of personal consumption. Goods and services subject to Washington sales tax represented 32% of total consumer spending in 1959, but only 26% in 2000.
And when your tax base shrinks, you really have only three options:  expand the base, raise the tax rate, or shrink the role of government in our economy and society.  And despite all the rhetoric about state government growth in real dollars over the past two budgets, Washington lawmakers have largely chosen the third option over the past couple decades, steadily shrinking both revenues and spending as a percentage of our overall economy.
As the following chart prepared by the Washington State Budget and Policy Center shows, both state revenue and spending have fallen or remained flat since 1995, relative to the state economy.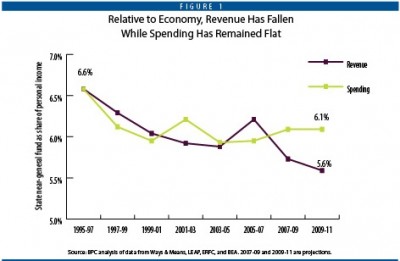 (It is also interesting to note that the projected budget gap in the 2009-11 biennium is not due to an explosion in state spending, but rather to a precipitous decline in revenues.)
Yes, I know that for many of you on the right, this data may appear counterintuitive, but it is widely supported.  Indeed, even according to the conservative Tax Institute, the organization whose data Tim Eyman has long used to support his own anti-tax agenda, Washington's state and local taxes as a percentage of personal income have fallen from 10.4% in 1994, when the Tax Institute ranked us at 17th nationally, to a 35th place 8.9% in 2008, well below the national average of 9.7%.
Different organizations may calculate different raw percentages, but they all generally report the same ranking and the same relative decline.  According to the Tax Institute, Washington's 2008 state and local tax "burden" was exactly the same as that of Mississippi. That's a fact.
And these numbers should come as no surprise.  Our over-reliance on a retail sales tax levied on an ever shrinking portion of our economy makes this long term structural deficit inevitable, and unless we reform our tax system to broaden the base, or permanently increase sales tax rates, the ability of our government to provide the services taxpayers expect and demand will continue to shrink in proportion to its revenue base.
There is a legitimate debate to be had over the proper size and scope of government… but we're not having that debate.  Instead, even as Democrats dominate the Legislature and the governor's mansion, the lower-tax/smaller-government Republican agenda is winning by default.