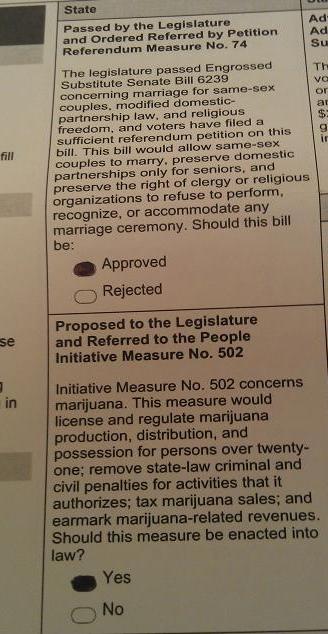 There's a lot of disillusionment with the state of our political system right now. We have two major parties that are largely beholden to powerful economic interests who've figured out how to funnel taxpayer money into their own pockets. We have a massive – and largely privatized – military that kills and maims innocent civilians across the globe with almost no oversight. We have the most people living behind bars (by far) of any country in the world, continuing to grow with an immigration crackdown that has continued largely under the radar. And our electorate is largely tuned out, not even able to muster the ability to demand that the two main candidates for president present a clear vision of how to deal with climate change, something that looms as potentially the most dangerous thing we'll deal with in our lifetimes.
Yet this year, in this state, we got the chance to take two small steps forward. Voter initiatives are often cynical attempts to con voters into voting against their own economic interests. I-502 was a reminder of why they serve a real purpose. It was a genuine effort – decades in the making – to demand that government stop its foolish and wasteful crusade to keep adults from enjoying a recreational drug that's been used by humans for thousands of years. This Tuesday, we'll make it official. Marijuana prohibition's days are numbered. Change is coming.
And Washington is set to become the first state (hopefully with several others on Tuesday) to end marriage discrimination at the ballot box. If only people who were personally affected by either of these initiatives cared, they wouldn't have a chance. But more and more people are beginning to recognize the value of standing up for the rights of others, even when they involve rights you don't ever plan to exercise yourself.
Thanks to all the folks in both the I-502 campaign, the R-74 campaign, and everyone who's worked over the years to bring reform to where we are today. These seem like small steps compared to some of the challenges we face, but these are big victories that can give us the confidence to know that positive change can happen. And as people who've fought for years for gay rights and drug law reform can tell you, it's a long battle with many setbacks. Tuesday can't come soon enough.