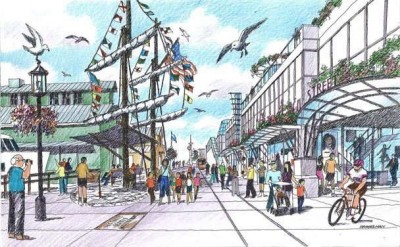 WADOT has released sketches of "Option E" (formerly "Plan 9"), state House Speaker Frank Chopp's pet alternative for replacing the Viaduct.
Imagine a milelong building, filled with office and retail, 90 feet wide and 55 feet tall, stretching from King Street to Victor Steinbrueck Park.

And on top of that would be a massive park.
Or as Will likes to call it, "Suicide Park."
I guess the artist's rendering is pretty and all, but imagine the view from the other side.  The side shrouded in darkness for all but a couple hours each day around noon.  We're talking about a 90 feet wide, 55 feet tall, milelong wall separating Seattle's waterfront from the rest of the downtown… and if you think that's gonna happen, I've got an eight-lane 520 bridge to sell you.
UPDATE:
A reader emails me with another image of what the "Viaduct Mall" might look like: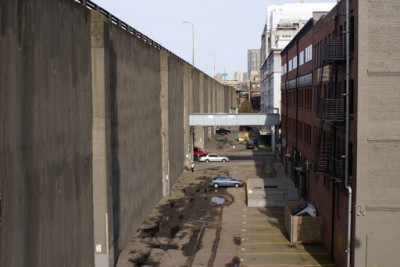 Oooh… purty.