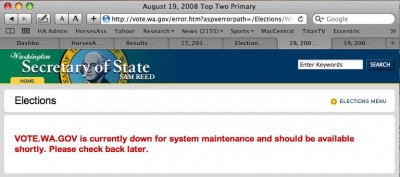 Checking the latest election results from the Secretary of State's website, I find that it's not only down, but apparently has been since August 19, 2008. Huh. Maybe that's why they call it the SOS?
Anyway, last time I saw, Patty Murray was winning with about 48% of the vote or something, which is about where I expected her to be. Meanwhile, Tea Party wunderkind Clint Didier is having trouble breaking into double digits. Ooh… I'm scared. And Dino Rossi? Whatever.
UPDATE… Color me Didier:
Apparently, not only is the SOS running their website off an old TRS-80, but due to budget cuts, they can only afford two colors on their county maps. So while you wouldn't know it by looking at the top of the page, Didier has actually won at least two counties, Benton and Franklin. Yeah for him!
UPDATE… Gruber Wins!
Huge upset brewing in Snohomish County: