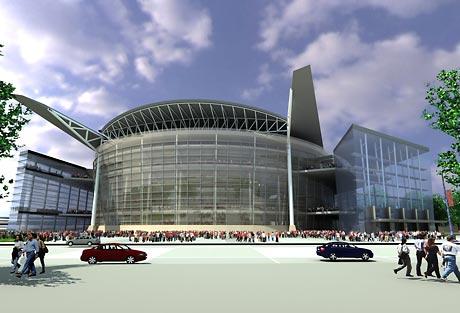 Come on… can anybody other than a newspaper editorial board or a stadium-struck state senator really take Sonics owner Clay Bennett seriously? Yesterday Bennett unveiled sketches of a proposed $500 million Renton arena, but….
Bennett said team owners won't pay for any cost overruns [… and] he did not say how much owners would contribute…
So let me get this straight. The Sonics want a $500 million arena of their own design, financed by $300 million in state money, plus $100 million or so in land and cash from the city of Renton. Renton would own the arena, and be responsible for major maintenance and repairs, but the Sonics would keep all revenues from all events, and not be responsible for a penny of construction cost overruns. Of the remaining $100 million not covered by taxpayers, that would mostly be offset by naming rights, seat licenses and other such deals, bringing Bennett and his partners' total contribution to… just about nil.
And Bennett calls a public vote on the proposal "problematic"…? No shit, Sherlock.
Given the political reality (you know… that state Sen. Margarita Prentice of Renton only has one vote,) you'd think Bennett might have tried to sweeten the pot instead of announcing that taxpayers would be stuck with the inevitable cost overruns. But then, I've never believed that Bennett ever seriously wanted to keep the Sonics in the Seattle area, but rather has always intended to move the team back home to Oklahoma City, where he will be welcomed as a conquering hero. In that admittedly cynical scenario the arena proposal must be just believable enough to keep gullible fans (and editors) in their seats until the Key Arena lease runs out in 2010, but outrageous enough to make the deal politically DOA.
That Bennett now says he might accept a public vote on his proposal fits in quite nicely with that strategy, dragging the process out even further while virtually assuring that such a grandiose act of corporate welfare is rejected at the polls.
So enjoy the Seattle Sonics while you can. That is, if you can enjoy a team that can't be bothered to put a quality product on the court, even while supposedly in the midst of fight to gain public support for a new, taxpayer-funded arena.
TANGENTIAL UPDATE:
After a similar Sonics "announcement" a couple weeks back, I compared the contrasting coverage in the Times and P-I, much to the irritation of Times reporter David Postman, who accused me of being a wrong-headed, fatuous drunk.
I like Postman, and think he's a great reporter. But he's more than a little bit sensitive, and he took my critique as a personal attack on the Times and his colleagues. No doubt I preferred the editorial slant of the P-I's coverage (I often do,) but whether Postman accepts my explanation or not, my main goal was to point out that different papers covering the same event often impress in readers dramatically different perceptions of the key issues at hand.
So considering our previous media criticism brouhaha, it is only fair to compare and contrast the Times and P-I in their coverage of yesterday's Sonics "news."
Seattle Times:

OLYMPIA — Sonics owner Clay Bennett on Monday unveiled early sketches of a proposed $500 million Renton arena and softened his stance on whether it should go to a public vote.

But Bennett said team owners won't pay for any cost overruns. And with a Legislature skeptical over the $300 million-plus bill to taxpayers already sought, it's not clear whether the building will ever become more than ink on paper.

At a hearing before the House Finance Committee, Bennett offered few new details about the proposed arena beyond the sketches. He did not say how much owners would contribute and said many details would have to be worked out in a lease with King County.

Seattle P-I:

OLYMPIA — After months of conjecture, Clay Bennett and his partners put a visual face on their new arena concept Monday with the release of architectural drawings of the proposed Sonics facility in Renton.

"I'm open to whatever the right answer is, whatever leadership recommends and whatever's right for this region," Bennett told lawmakers.

The public — as well as lawmakers — can now picture the 20,000-seat building Bennett has planned for the site, which was announced two weeks ago.
Readers of the P-I were presented with a lede that pretty much tells the story Bennett wanted to tell: a politically conciliatory Bennett released architectural drawings that enable the public and lawmakers to envision the new, proposed arena. In fact, the P-I article never even mentions anything about cost overruns or owners contributions.
The Times lede is quite a bit more nuanced… and appropriately cynical. It too starts with the visual — the sketches of the new arena — but quickly dives into the political deep-end of the story: the team won't pay for cost overruns or commit to a contribution, and legislators remain skeptical. While the P-I says the public "can now picture" the new arena, the Times ephasizes that "Bennett offered few new details." And though the P-I leads with a propitiative Bennett quote, the Times merely describes the Sonics owner as having "softened his stance."
My only formal journalism training occurred way back in high school, but I'm pretty sure the admonition to put the most important information near the top, hasn't changed much these past twenty-five years. (A rule, by the way, which I often break.) Many readers never get past the first few paragraphs, so when it comes to the release of the architectural sketches, those who picked up the P-I this morning will simply learn what happened, while those who picked up the Times will learn what it all means. Score one for the Times.
As I've said before: one hearing, two newspapers, two ledes.
And all the more reason to keep this a two newspaper town.