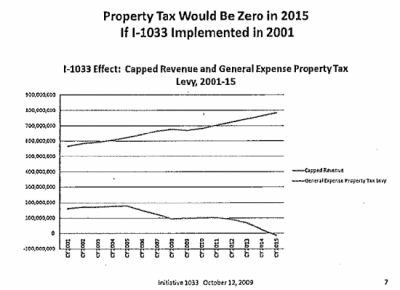 As reported on Publicola, Seattle budget planners have run some numbers to illustrate the potential impact of I-1033 on city revenues, and it's pretty grim. Indeed, had I-1033 been implemented in 2001, property tax revenues from the city's regular levy would be reduced to zero by 2015.
That' right, zero. Zilch. Nada. Bupkis.
I assume the planners started with 2001 because it too was a down year, and would provide an opportunity to neatly illustrate the "ratcheting down" effect of our current recession… that is, every time revenues drop, the baseline from which future revenue lids are calculated is reset even lower. This 2001 starting point also benefits from using real numbers to date, so unless you believe we have finally banished the economic cycle, there's no reason to expect a 2010 implementation of I-1033 to behave much differently.
Thus whether it takes fifteen years or ten or twenty, I-1033 would eventually and inevitably eliminate Seattle's regular levy, the portion of the city property tax that does not require the prior approval of voters. I suppose there are some on the right who would argue that this would be a good thing… I just wish they'd do so publicly and honestly instead of attempting to trick voters with deceptive measures like I-1033.