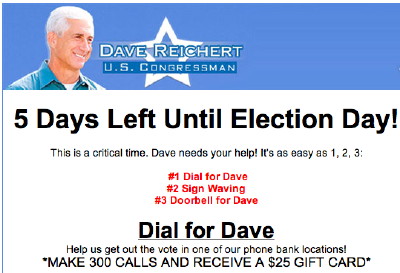 A lot of passionate, enthusiastic Democrats are manning the phones and knocking on doors this weekend, working hard to get out the vote. But if you're volunteering for Suzan DelBene, perhaps you've backed the wrong candidate, that is, if what really gets you motivated about politics is a $25 gift card.
Really, Dave? Huh. So much for that enthusiasm gap.
Anyway, if you don't need the money, you can dial against Dave, and for Delbene, at any of these locations.