Of course, I always expected the Seattle Times editorial board to endorse a "No" vote on Proposition 1… they've been smearing the Roads & Transit package for weeks. But I was a bit surprised by the curious logic that underpins their argument to reject the package: apparently, rail simply doesn't work.
Light rail replaces buses, and at a much higher cost per rider. Rail soaks up money buses might have used. Rail funnels transit. Buses extend it. And most rail riders will be people who were already riding the bus.

[…] Seattle may deny this, but the surest way to reduce congestion on roads is to build more lanes.
Damn right Seattle denies it — recent polls show that as many as 80-percent of Seattle voters support extending light rail. So… um… is the so-called "Seattle" Times calling 80-percent of Seattle voters stupid? Huh. That can't be good for business.
As for the Times assertion that "the surest way to reduce congestion… is to build more lanes"… um… you mean like that twelve-lane section of Arizona's I-10 that has done such a good job reducing congestion, they've decided to double it to twenty-four lanes?
Arizona's "Freeway to Heaven"

Yup, can't argue with "human experience" like that.
Indeed, the Times seems to argue that rail has absolutely nothing to do with reducing congestion, but is rather some sinister exercise in social planning.
It is about increasing density, levering us into apartments around rail stations. If we live next to rail, we will drive less and help save the Earth. It is a fetching, utopian vision, but it is not so easy to change the way Americans live.
A "fetching, utopian vision"…? But wait… what about Portland, where the Times' own Danny Westneat recently found that city's transformative rail system to be "fast," "cheap," "reliable," "quiet" and "mostly pollution free"…?
Consider Portland. That city opened its first light-rail line two decades ago, and has built several of them, all of which replaced bus lines. Overall, Greater Portland is no less car-dependent than Seattle. Its congestion has gotten worse, just as it has here.
Oh… so there's the logic. Portland built rail. Portland's congestion has gotten worse. So therefore, according to the brilliant logicians at the Times, rail does not reduce congestion. In fact, one might argue, it actually increases congestion.
Huh. New York City is incredibly congested, and I guess, the Times would argue, that its extensive subway and commuter rail system is at least partially to blame. Chicago's nightmarish traffic? Must be that damned El. Same goes for Boston and its "T", London and its Underground, Paris and its Metro, and hundreds of other gridlocked cities that also, stupidly, clog up their transportation systems with subways, elevateds, streetcars, trolleys and rail systems of all types and gauges. If only these cities had followed the sage advice of the transportation experts at the Seattle Times, and invested in roads rather than rail, traffic congestion would be a thing of the past.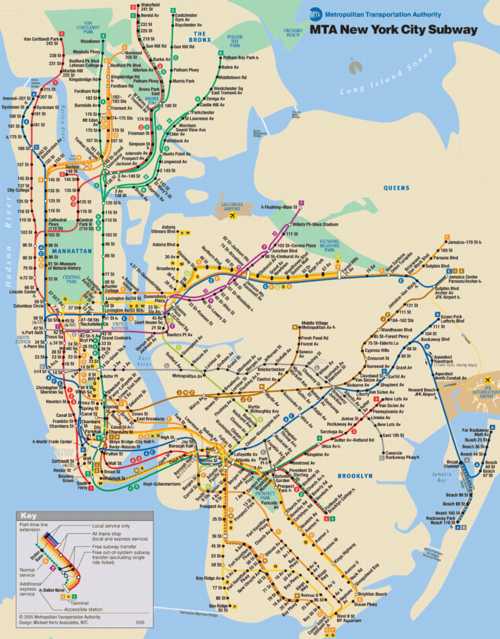 No wonder you can't drive anywhere in NYC, what with all these damned colored lines getting in the way.
After all, who needs rail, when like Frank Blethen and Jim Vesely, you live on Mercer Island and have SOV access to I-90's HOV lanes speeding your commute to and from Fairview Fanny?
And that's what this editorial really comes down to: selfishness. Ron Sims opposes Prop. 1 because he's wrong. The Sierra Club opposes Prop. 1 because they've sadly succumbed to their Naderite demons. But the Times editorial board opposes Prop. 1 because damn if they ever intend to ride a train, and goddamnit all to hell if they'll ever be caught dead on a bus. I mean, just look at the disdain these folks hold for mass transit, arguing that the better (ie cheaper) alternative to rail is buses… you know… "if people will ride them."
But then, what do you expect from the editors of our city's largest newspaper when most of them can't even bring themselves to live in the city they write about? When your perspective of Seattle comes from driving through it at 60 miles-per-hour, of course SOV and Lexus Lanes are your preferred transportation solutions. And of course you resent paying for a rail system that 80-percent of your readers are apparently too stupid to oppose.