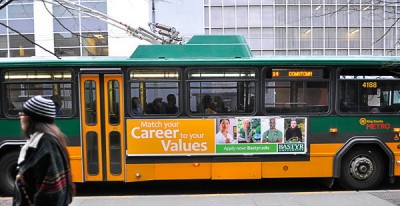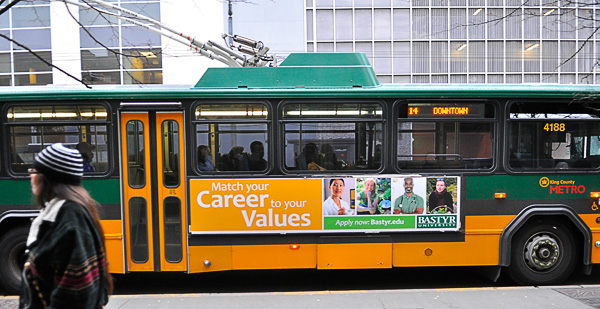 I suppose because a 15.6 percent cut in Metro bus service would be totally all right:
THE campaign for King County Proposition 1 says 600,000 hours of Metro bus service would be cut if voters don't approve the measure.

At best, that's disingenuous. The facts matter when asking voters to increase car tabs from $20 to $60 and to raise the sales tax 0.1 percent on the April 22 ballot.

In fact, Metro has known since at least March 13 that better-than-expected tax collections would reduce the expected cut down to 550,000 hours. That's because King County's trampoline rebound from the Great Recession netted Metro $5.4 million more last year than had been projected. Metro is now forecast to receive $13.7 million more in 2014 and $15.9 million more in 2015.
First of all, the editors at the Seattle Times are the last people who can straight-facedly critique the math of others. But Jesus… talk about nitpicking. Are they seriously making the case that voters should reject Proposition 1 because Metro only faces a 550,000-hour 15.6 percent cut in bus service as opposed to the 600,000-hour 17 percent cut threatened? Accept their math and the region is still facing a devastating cut in bus service at a time there is demand to expand it (not to mention our region's growing backlog of deteriorating roads—40 percent of Prop 1's revenue goes to road repairs). If this is the strongest case the editors can make against Prop 1, it only emphasizes the need to pass it.
As to modestly rising sales tax forecasts, yeah, that's true. But sales tax revenue is notoriously volatile. Indeed, this recent uptick in revenue comes on the heels of a 10-year $1.2 billion sales tax revenue shortfall from previous forecasts. So much for forecasting sales tax revenue. And with reserve funds now standing near nil, Metro has little margin of error before a couple bad quarters forces additional cuts.
Look, time has run out. Prop 1 isn't perfect, but after two years of waiting for Olympia to stop dicking around with our transit funding, this is the only option we have left. Pass Prop 1 or cut 600,000 hours of Metro bus service—give or take a 100,000 hours.