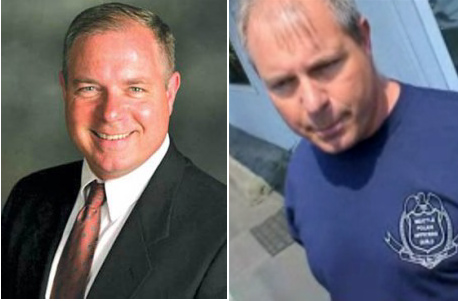 The Seattle Times endorsed Republican Kevin Haistings today over incumbent Democratic Rep. Roger Goodman in the 45th Legislative District… apparently the same Kevin Haistings who roughed up a cameraman at a press conference the Seattle Police Officers Guild held to announce their endorsement of Dino Rossi in the 2008 gubernatorial race.
Huh. It's good to see the Times finally moving beyond its whole anti-labor/union-thug meme by, you now… actually endorsing one:
Republican Kevin Haistings would bring a pragmatic, independent voice to the principal task in Olympia: wrestling a tight budget.
That is, when he's not wrestling a cameraman.
Equally amusing is the Times' characterization of Haistings as "a political novice." Apparently, they gave Haistings a mulligan for his failed 2008 run against Rep. Larry Springer. Kinda the political equivalent of regaining your virginity.
Anyway, here's the video of Haistings dragging a cameraman out of a press conference, and then grabbing his camera and shoving him while he stood on the sidewalk outside the building. This is the sort of bipartisanship the Times thinks we need more of in Olympia.
[youtube]http://www.youtube.com/watch?v=gs0gfs2ZX5w&feature=player_embedded[/youtube]