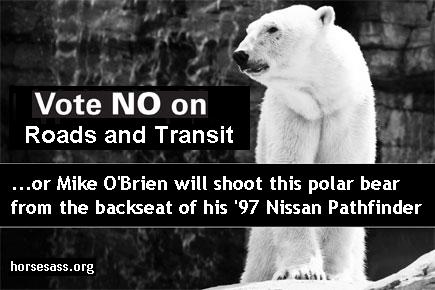 I know next to nothing about science. When scientists (or at least those who aren't on the payroll of Exxon) agree that human beings are having a significant effect on the climate, I tend to believe them.
That's not some sort of hipster affectation, mind you. When people with doctorates in earth sciences speak in one voice, I try to set down the PBR and the graphic novel and listen. But what throws me for a loop is when good people, with the right idea, go off the rail.
Like the "Save The Polar Bears" crowd.
But really… Who should the polar bears fear the most? Local Sierra Club boss Mike O'Brien and his Nissan Pathfinder? Or some drunk Canuck with a shotgun?
Polar bears would stand a greater chance of avoiding extinction if people stopped shooting them than if they reduced greenhouse gas emissions, according to a book by a leading environmental skeptic.

Bjorn Lomborg, the Danish professor who achieved international fame with his previous book, The Skeptical Environmentalist, examines and rejects claims by environmentalists and the former president Al Gore that polar bears are drowning because the sea ice they hunt on is melting.

Lomborg says the story about drowning bears is taken from a single sighting of four dead bears the day after an abrupt windstorm. The bears came from a population that was actually increasing, which has been the overall trend in the polar bear population since the 1960s.
Lomborg, whose PhD is in political science and who doesn't claim to be a scientist, gets all sorts of hisses and boos when he speaks. He even got nailed with a custard pie in Oxford. Hmm… Pie target Bill Gates is still shipping software, and the mannish Ann Coulter hasn't been eaten by wolves. Perhaps the "pie throwing as a means of affecting public policy" meme is a bit played out, no?
Lomborg continues:
[He] points out that over the past decades, the global polar bear population has increased dramatically from about 5,000 members in the 1960s to around 25,000 as a result of the regulation of hunting.

Even if a decline in the bear population has taken place since the 1980s, he says, if we try to help them by cutting greenhouse gases we can at the very best avoid 15 bears dying, with realistic option meaning that it is probably only around 0.06 bears per year.

But he says, if we care for stable populations of polar bears, dealing with the 49 polar bears from the same population around Hudson Bay that get shot each year might be a smarter and more viable strategy.
I'd much rather see enviro groups pushing an American-style "cap and trade" system for controlling carbon dioxide in a way that would spur innovation and reward creativity, rather than more of these goofball vanity campaigns.