Over the 74 years since it was first implemented, Washington's state retail sales tax has been raised eight times, from 2% in 1935 to 6.5% in 1983.  On average, the sales tax rate was raised once every 6 years during its first 48 years of existence, culminating in a 2-cent jump between 1981 and 1983.
Yet it has remained unchanged over the past 26 years.
The steady rise in rates over the first two-thirds of the sales tax's history stemmed partially from the fact that growth in demand for public services generally tracked growth in personal income, while retail sales steadily shrunk as a portion of the overall economy (from 32% of total consumer spending in 1959 to only 26% by 2000), primarily due to our ongoing shift from a manufacturing to a service and information based economy.  State government simply couldn't meet the demands of our growing economy without periodically raising the sales tax rate, and at times, expanding its base.
But since 1983 the rate has been frozen at 6.5%, and with inevitable results.  Over the past decade and a half Washington state's personal income has grown by 225%, while state sales tax revenues have increased by only 198%.  And for a state that relies on the sales tax for over half its general fund revenues, that is a recipe for a structural budget deficit.
Contrary to the Eymanesque meme of out-of-control government spending, state taxes and expenditures are steadily declining both per capita, and more importantly, as a percentage of the total economy.  Sure, our severe recession has exacerbated and accelerated the problem, but it was always there lurking beneath the ups and downs of the economic cycle.  Already even with Mississippi in terms of state and local tax burden, and contemplating drastic cuts in our social safety net, Washingtonians can no longer put off the tough questions:  are we willing to raise our taxes to help maintain the level of services and quality of life we've come to expect, and if so, how?
The easiest and quickest solution would be to raise the sales tax, which would immediately generate additional revenue with little administrative overhead.  But a 1 cent increase only raises an additional 2 billion dollars over the next biennium, enough to fill but a portion of the remaining budget gap, and recent polls show an increase even a fraction of that size is extremely unpopular amongst voters.  And with WA already laying claim to the most regressive tax structure in the nation, and combined state and local rates now topping out at 10 percent, it's not hard to understand why.
The other solution—the one I've been relentlessly plugging for weeks—is a high-earners income tax, that depending on the plan, would only tax the top .1% to 4% of households.  The very households, it turns out, who have benefited most from our state's economic growth over the past couple decades.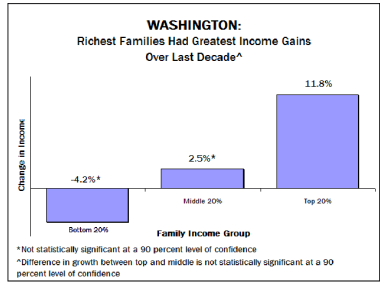 Over the past decade the average income of the wealthiest fifth of Washington families has increased $14,136, from $119,954 to $134,090, while real incomes of the poorest fifth and middle fifth have remained flat, or even declined.  And the disparity only grows when looking back a further decade.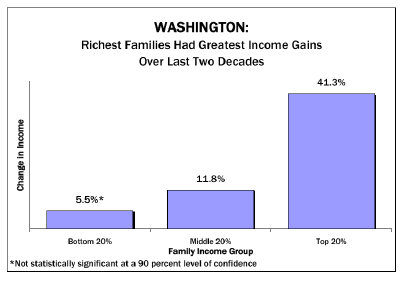 Again, lower and middle incomes have remained relatively flat, while the top fifth of households have seen their income grow 41%, from $94,930 to $134,090.
Add to this growing income inequality our profoundly regressive tax structure, where the bottom fifth of households pay 17.6% of income in state and local taxes while our top 1 percent pay only 3.1%, and the argument for an income tax appears clearly grounded in both fairness and mathematics.  It is the wealthy who have benefited the most from our state's extraordinary economic expansion over the past few decades, and the public investment that helped make it possible, and it is the wealthy who clearly have ability to pay.  Meanwhile our lowest income households are already struggling to pay what amounts to the highest state and local taxes in the nation, all the while seeing their real incomes stagnate or decline.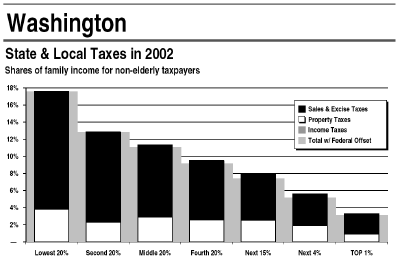 Coming up soon:  why taxing the rich has less of an anti-stimulus effect than cutting government spending.