I was sitting with the Alaska bloggers during last night's opening keynote addresses (they were all great, but Montana Governor Brian Schweitzer simply kicked ass) and when we got to talking about Dino Rossi, Jeanne Devon (AKMuckraker) of The Mudflats mentioned that he had come to Alaska in 2006 to headline a fundraiser for Sarah Palin's gubernatorial run.
Really? I hadn't heard of that before. But a quick bit of Googling found confirmation straight from the horse's mouth:
Dino Rossi, Republican candidate for governor: "I think it's a perfect fit for John McCain. I flew up and did a fundraiser for her in 2006. I was very impressed with her. The conservatives will be happy. She's bright and articulate … America is just going to have to get to know her."
Yup, she's "bright and articulate," Rossi insisted, a gushing assessment Palin has certainly done nothing to refudiate.
And how does Palin return the favor? By coming to Washington and endorsing Clint Didier, of course. Man, that's gotta sting.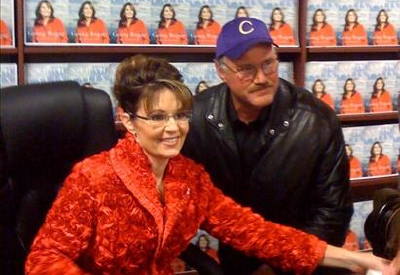 But then, what should Rossi expect from such an impressively bright and articulate woman?