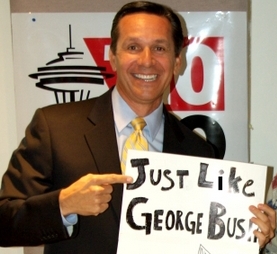 I get email:
For someone who doesn't want to be tied to Bush, Rossi is doing a shitty job of defense. Sending out press releases talking about the Governor talking about how you named your dog after Bush?!?! Are you fucking serious?
The emailer is referring to a press release sent by the Rossi campaign in response to this quote by Gregoire:
"In fact, he is so enamored with George W. Bush he has named his dog [Dubya]. I feel sorry for the dog."
When Rossi should be trying his best to show voters that he's not in league with Mr. 28 Percent, this release shows he's not taking taking that advice. What a bunch of whiners.
And this photo above, well… let's just say that campaigns pay people 4k a month to keep them from happening.