I almost wrote this post a couple weeks ago, after it had been pointed out that once-dominant righty blog (un)Sound Politics hadn't seen a new post since mid-September, and only a handful of posts over the months prior. Now it appears to be totally offline: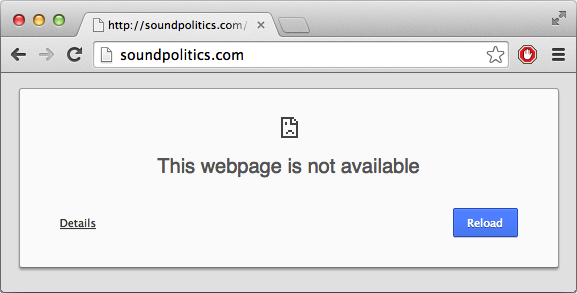 Guess that makes me the last man standing.
Ironically, I owe a fair amount of my own blogging success to u(SP) frontman Stefan Sharkansky, who stupidly got into a pissing match with me immediately following the 2004 election and during the bitter, months-long contest over the gubernatorial results. It was u(SP) that dominated the local political blogosphere early on, but by casting me as the enemy Stefan helped elevate HA into the role of the state's premier liberal blog. And as Stefan gradually revealed himself to be a little bit crazy and a lot bit wrong, it was HA that ultimately rose to a position of influence as u(SP)'s relevance steadily withered away.
Stefan stopped blogging long ago, but not before destroying u(SP)'s last shred of credibility. I'll miss his online voter registration database. That was useful. But u(SP) hasn't been much more than a nasty afterthought for years. So good riddance.