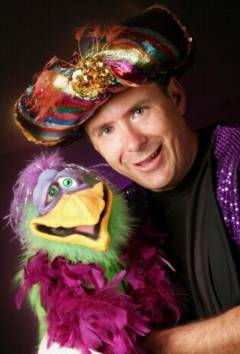 Jack "the Magic Genie" Turk, and his running-mate Doodle
For weeks now, Snohomish County Republicans have built up the suspense surrounding their "secret candidate" to challenge County Executive Aaron Reardon. Um… now we know why they kept it such a secret.
Jack "the Magic Genie" Turk announced his candidacy at the Snohomish GOP convention last night, where he was "unanimously anointed" the party's nominee. Turk told his fellow Republicans he wasn't afraid of losing, which, while a perfectly realistic perspective, doesn't exactly make for a compelling fundraising pitch.
"I'm certainly different. I'm definitely out of nowhere," said Turk, 50, of Snohomish. "I'll make my appearances fun."
Yeah, well, as long as he shows up at events wearing a sequined turban and carrying his bird puppet, "Doodle," I think we'll all have a little fun with this campaign.
Turk is a former Microsoft technical writer, program manager, and group manager, and, you guessed it… a professional magician, who performs up to 20 shows a month, mostly for children. No wonder he wowed the folks at the county convention.
Earlier this week (un)Sound Politics Eric Earling speculated about the identity of the secret candidate, posting six tantalizing clues based on details provided by County GOP Chair Ger Modrell. Surprisingly, none of the biographical facts had anything to do with magic tricks or puppets, leading Eric to post the following wise piece of analysis:
Fact Six: His current business's core focus is enabling individuals to achieve their dreams of success. Isn't that the kind of leader we're looking for?
Uh-huh.
It'll take a magician for the R's to pull this election out of a hat. As one political wag put it: "And we thought incumbents had it easy in King County…"
UPDATE:
Eric informs me that I misread his post. The Six Facts were a copy and paste from a GOP press release, not Eric's own analysis. So it is the Snohomish County GOP who deserves my ridicule, not Eric. My apologies.