Gabrielle Giffords, a Democratic congresswoman from Arizona, was shot today at a public event outside a grocery store.

A spokesman for the Pima County sheriff says that at least 12 people were shot. The Tucson Citizen reports that Rep. Giffords was "shot point blank in the head."
New reports now say that Gifford is dead, and her district director and two other staffers were also shot, all three in critical condition.
UPDATE:
There are a lot of lessons to learn from this tragedy, but one, unfortunately, is that assassination can be a very effective political tool.
UPDATE, UPDATE:
NPR is now reporting six seven dead.
UPDATE, UPDATE, UPDATE:
SarahPAC hits a target: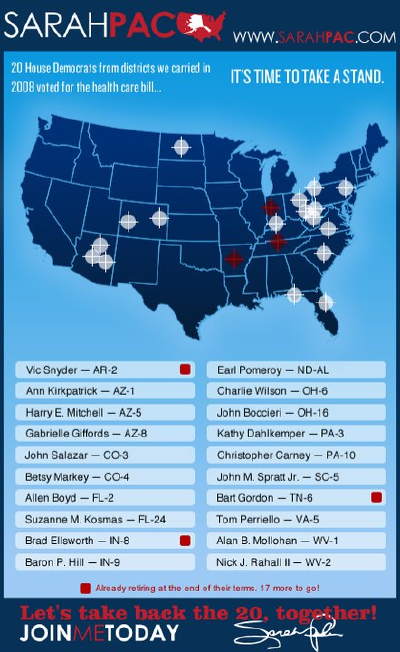 UPDATE, UPDATE, UPDATE, UPDATE:
There are now conflicting reports, with at least one news outlet reporting that Giffords is not dead, but still in surgery. So I'm going to stop updating for now, and save it for a subsequent post.
OKAY, JUST ONE MORE: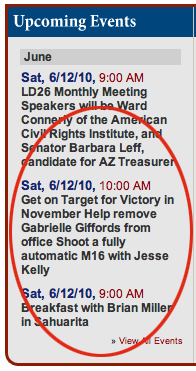 Some folks in the comment threads caution me that I shouldn't be jumping to conclusions, but as I've frequently written on the subject, words have consequences, and when it comes toviolent, right-wing, eliminationist rhetoric, one must accept that those consequences might ultimately include violence.
So when Giffords own Republican opponent uses rhetoric like this and holds a symbolic campaign event like that, well, what did he expect?
I'm just sayin'.