In defending Dave Reichert's abusive franking practices, the typical Republican defense is to roll their eyes, shrug their shoulders and say "everybody does it." But not everybody does, and of those who do, few abuse the privilege to the extent of Reichert. And almost nobody uses taxpayer money to lie to taxpayers the way Reichert does in his franked mail cum campaign brochures.
Take for example Reichert's recent taxpayer-funded campaign mailer constituent communication. In this one, Reichert touts his "bold" earmark reform… which basically consists of "not seeking congressional earmarks this year."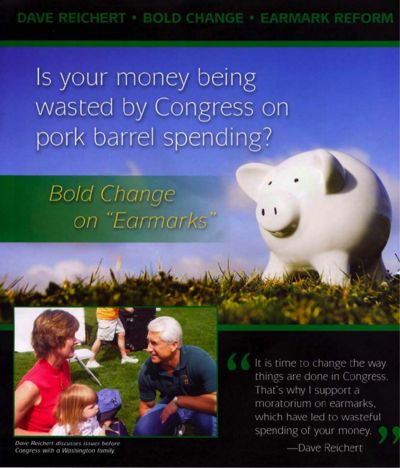 "It is time to change the way things are done in Congress," Reichert spends your money telling you, which is why he supports "a moratorium on earmarks, which have led to wasteful spending of your money."
And yet, just two years ago, Reichert dropped a big chunk of taxpayer change on a piece of franked mail with the headline "Congressman Dave Reichert: Working for You," and featuring a map bragging about all the pork he claimed to have have brought home to his district.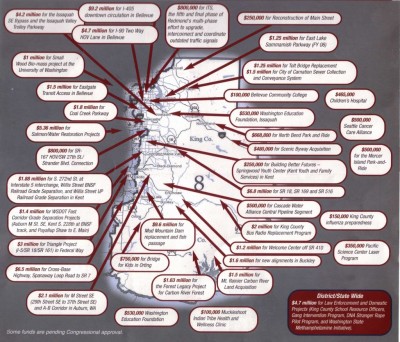 So one piece of franked mail touts his opposition to wasteful earmarks, while another brags about his profligate use of the tool. That's the kind of rank hypocrisy Reichert shouldn't be able to get away with, unless… you know… our local media lets him.