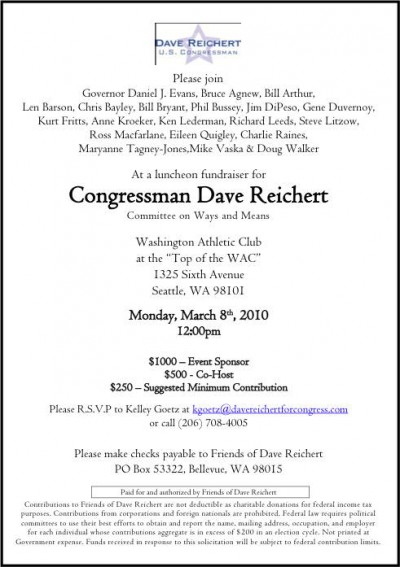 I don't mean to rub it in too much to my friends in the environmental community, but following up on yesterday's piece about Rep. Dave Reichert's embarrassing leaked audio, I just can't help but post a copy of this invitation to a Reichert fundraiser held this March, hosted by Washington Conservation Voters executive director Kurt Fritts and a bevy of WCV board members.
Reichert is heard on tape bragging to a closed-door gathering of Republican PCOs about how he's cynically taken the environmental community "out of the game" in his "50/50 district" with a few well placed, pandering votes, but in fact, he's being all too modest. Far from kneecapping him, like enviros did to Rep. Pombo in California, the WCV actually held Reichert a fundraiser. And for what? A 64 percent rating on the League of Conservation Voters National Scorecard?
64 percent. Last time I checked, 64 percent was a "D" grade.
Now I'm not questioning the intentions of the WCV folks who attended that funder (well, maybe Bruce Agnew's), but come on… that's one helluva curve. Reichert does barely enough to get a passing grade, then brags to Republican PCOs about how he's duped you… and you give him money!
Me, on the other hand, I passionately and genuinely defend your issues, and yet I don't think I've seen a single WCV board member contribute to my fundraiser.
Huh. So how cynical do I have to be in order to earn your financial support?