A new poll conducted on behalf of EMILY's List shows incumbent Rep. Dave Reichert holding a statistically insignificant 1 point lead over challenger Darcy Burner, 44% to 43% — well within the poll's 4.9% margin of error. This is the second poll in as many weeks to show the race in a dead heat… and that's about the best news the Reichert folks can squeeze from these numbers.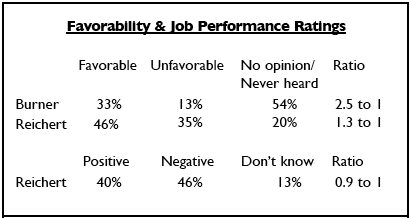 It doesn't take a rocket scientist to see that Reichert is vulnerable. His favorable ratings are below 50 percent, and he actually suffers a 6 point deficit in job approval.
And that's not the worst of it. In a generic congressional match-up, 8th CD voters favor Democrats over Republicans 44% to 34%. Meanwhile, President Bush's ratings have dropped through the floor, with a 36% to 59% favorable/unfavorable rating, and a stunningly low 28% to 71% job approval rating. This is simply a terrible climate for a Republican incumbent… especially one who has had high-profile visits from President Bush and Karl Rove.
As for Burner, she clearly still has a lot of work to do, but she has tremendous upside. Burner enjoys a 2.5 to 1 favorable ratio, but her name ID still stands below 50 percent. According to the pollsters:
"Burner has significant opportunities to grow in her name identification among younger voters (especially women), parents, the less well-educated, and residents of Pierce County and Legislative Districts 25/33/45 and 41. Introducing her to these voters with a positive message will help boost her performance. Indeed, almost 70% of Congressional undecideds know little about her."
No doubt the righty trolls will dismissively pooh-pooh this poll, just as they did the previous one, but at some point they're going to have to move off of the "Darcy isn't a credible candidate" meme and start arguing this race based on Reichert's record and the issues. For one thing should be abundantly clear to all but the most partisan Republican boosters: Burner can win this race.
But notice the emphasis on the word "can". "Can" and "will" are not the same thing, and Burner can't beat Reichert without your help. The NRCC has already started pulling money out of some hopeless races, but that's not going to happen in WA-08, for the Republicans have no chance of holding control of the House if they can't hold seats in suburban districts like Reichert's. Districts like WA-08 will likely be ground zero in the GOP's battle to retain their majority, so expect a firestorm of TV ads to blitz the airwaves, attacking Burner and defending Reichert. Burner can survive, but only if she has the resources to respond.
So if you haven't yet given, or you haven't given all you can give, now is the time to make a contribution to Darcy Burner and Peter Goldmark. If we can't take back with House with great candidates like these, we'll have only ourselves to blame.