Rep. Dave Reichert is in trouble, and he knows it. He hit the airwaves this week with his first TV spot, and surprise: it's an attack ad against Darcy Burner.
You can smell the desperation coming from the Reichert camp, but that's not all that stinks. Darryl over at Hominid Views does a great job picking apart the lies in Reichert's ad, and in the process he stumbles across a really huge political no-no.
Take a look at this screen shot from Reichert's ad: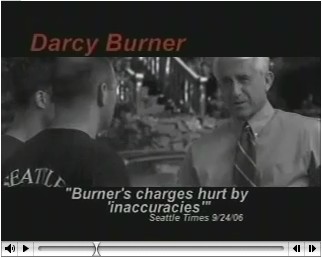 "Burner's charges hurt by 'inaccuracies'"
Now go try and Google that quote. You won't find it online. You won't find it in the print edition either. It doesn't exist.
Sure, there is a fairly even-handed article by Jonathan Martin in the 9/24/06 edition of the Seattle Times, critiquing ads by both the candidates. And it does contain the word "inaccuracies," as in:
Ads against both candidates contain inaccuracies.
But you won't find the words "charges" or "hurt," in or out of sequence, let alone the quoted phrase. Reichert just plum made it up.
Notice from the screen shot that Reichert was careful to place the word 'inaccuracies' in single quotes, which I suppose was some sort of sneaky effort to defend himself against charges like the one I'm raising. But by surrounding the entire phrase in double-quotes, the ad clearly implies that the phrase was an exact quote from the Seattle Times. And as far as we can tell, it wasn't.
It is one thing for Reichert and his cronies to make up lies about Darcy Burner — we all expected him to do that. But you just don't make up quotes and put them into the mouths of newspaper reporters and editorial boards. There are very few rules that govern the ethics of political advertising, but this is one a candidate should never violate.
Reichert has embarrassed himself. He has embarrassed the Times. And I fully expect the Times to demand that he pull or fix the ad.
And come election day, I hope voters remember what Reichert says at the end of the ad: "I'm Dave Reichert, and I approve this message."
UPDATE:
The Times' David Postman reports that Reichert will fix his ad. He quotes Reichert campaign spokesperson Kimberly Cadena:
The Reichert campaign made a mistake with the punctuation in its ad. We are fixing the punctuation to accurately describe what was in the Seattle Times article.
Oh… it was just a punctuation mistake. So, I suppose that means they're just going to pull the quotation marks off the larger, fictional quote, and put them around the word "inaccuracies," thus transforming a total fabrication into something that's merely intentionally misleading.
I mean, let's get real. Single word quotations are the stuff that ad copy for bad movies are made of. Which, come to think of it, is a pretty apt analogy for Dave Reichert.