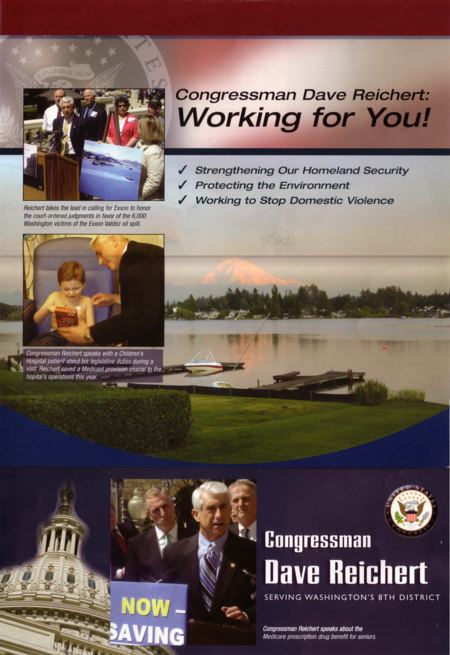 Looks like a pretty typical piece of campaign literature, huh? An oversized, glossy, folded pamphlet touting Rep. Dave Reichert's reelection.
Only it's not a piece of campaign literature, it's a piece of congressional franking, paid for with our taxpayer dollars, and a clear violation of the spirit of the franking rules, if not the law itself. Oh… and it's only one of six such mailings Reichert's office has recently sent to voters.
Indeed, Reichert's mailings have been raising eyebrows and filling mailboxes for months. At last night's Drinking Liberally an experienced campaign staffer actually laughed when he saw the congressional seal on the pamphlet, while another knowledgeable politico rolled his eyes in disbelief. And this morning I corresponded with a longtime Republican consultant who confided that there's a pretty blurry line between what is or is not a legitimate use of franking privilege, but that this one "crosses it by a mile."
But it's not just the content of Reichert's mailings that pushes the limits of the franking rules. House members are prohibited from franking mass mailings to constituents within 90 days before an election; with a September 19 primary date, that means the last day this latest mailing should have been postmarked was Tuesday, June 20th. Yet this latest flyer didn't start hitting mailboxes until Monday, June 26th.
Of course, presorted standard mailings like this can take over a week to go cross country, but since the cost is distance sensitive and the mailing was likely produced by local consultant Bruce Boram, chances are it was printed locally and mailed from the USPS's Seattle Bulk Mail Center.
So the question is… when did this mailing drop? If it actually went out after June 20th, then Reichert broke the franking rules. Not exactly the kind of disregard for the law you'd expect from an ex-sheriff.