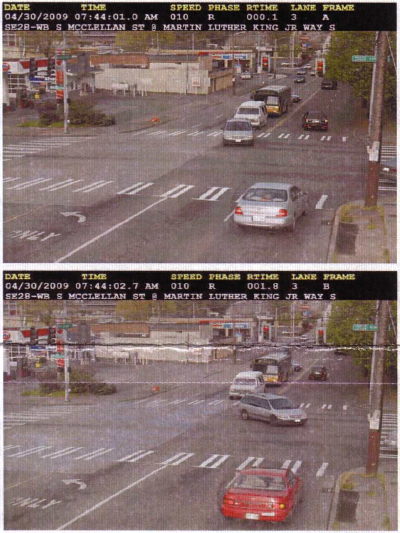 In theory, I'm not opposed to the installation of red light cameras. We have some pretty dangerous intersections down in my South Seattle neighborhood, and anecdotally, I'm pretty sure drivers started erring on the side of caution when a red light camera was installed at Rainier and Orca.  But I was pretty damn surprised to find a notice of infraction in my mail, as I tend to be a cautious driver.
The top photo shows my car in the foreground, edging into a cross walk at yellow light.  The second photo shows a red light with the tail of my car just barely in the right hand edge of the frame, after having made a right turn.  Interestingly, while the top photo clearly shows a yellow light, the text at the top indicates that the light has already been red for 0.1 seconds, suggesting some sort of timing problem with equipment.
The infraction notice states:
"The photographs and video recording taken together show that … the vehicle operator was facing a steady circular red signal when the operator failed to stop the vehicle at clearly marked stop line or other stopping point described in the ordinance."
I haven't been able to view the video on the web site yet, as it doesn't seem to work on my Mac, so I'm not sure at what point the light turned from yellow to red, though legally, I'm not sure if it matters.  It's hard to believe that an officer would ever have pulled me over for taking a right on a stale yellow… but then I'm a guy whose only two previous traffic tickets in thirty years of driving were for going 61 in a 55 on the New Jersey Turnpike, and for going 38 in a 30 at 5am on an empty Rainier Ave., on the way to the airport to fly home for my father's funeral… so shit like this tends to stick to me.
In any case, I'd love the advice of folks more expert at these issues. Is this really hard evidence of a violation?  And if not, should I request a mitigation hearing or a hearing to contest the infraction? (The infraction notice does a crappy job of explaining the difference.)
UPDATE:
I finally got to see the video and it clearly shows the light yellow at the time I enter the intersection, but turning red while my car is still in it making a right turn.  So from what I understand, I guess technically, that's a violation, if only by a split second.
Again, I'm not opposed to Red Light Cameras, as I believe they've proven to be effective traffic safety tools, but I hope city officials understand how frustrating they can be.  Drivers make judgment calls all the time, whether to stop or continue at a yellow light based on speed, road conditions, other vehicles, etc—for example, continuing through a stale yellow on an icy street can be safer than applying the breaks.
Likewise, officers make subjective calls all the time as to whether to pull a vehicle over, or issue a warning instead of a ticket.  Viewing the video, I was not driving unsafely.  There were no pedestrians near the crosswalk, I was driving at a safe speed (ironically, had I sped up, I would have avoided the ticket), and I didn't interfere with the cars that had the left arrow. As I wrote previously, I doubt an officer at the scene would have pulled me over.
And that's part of the frustration about the cameras… there's nothing subjective about them.  Being a half-second too slow just cost me $124.00, and didn't make the streets any safer.  So while I disagree with those who characterize red light cameras as cynical revenue tools, from personal experience, I certainly can empathize with the sentiment.