I was tuned in to KUOW yesterday afternoon, listening to callers explain how they intend to vote in the March 13 Viaduct advisory, and I was struck by a number of rebuild supporters who expressed the hope or belief that the final design will be substantially smaller and less obtrusive than the super-sized version that's currently on the ballot.
I'm guessing this elevated optimism is at least partially fed by the public musings of Seattle City Council President Nick Licata, who recently told the Seattle Times that he preferred a viaduct light option "dramatically reducing the current proposed width of the structure," and House Speaker Frank Chopp, who continues to insist that a double-decker freeway can somehow be made more elegant and attractive… by adding a third deck.
Yeah… um… except, they're all smoking crack.
You see, we've been repeatedly told that the new viaduct must be substantially taller and wider than the 1950's model, because of modern building standards, safety concerns, federal law and stuff like that, and maybe that's true. But as the Times explained on Monday, the primary factor influencing the footprint of the new structure is the footprint of the existing structure, for in an attempt to minimize traffic disruption, WSDOT intends to build the new viaduct on top of and surrounding the old viaduct before tearing it down.
That's right, the new viaduct must first eat the old viaduct, before it swallows the entire downtown waterfront. New columns will be built outside the footprint of the existing structure. Traffic will continue on the lower deck as the old upper deck is removed and a new upper deck is installed. Then traffic will move to the new upper deck as the old lower deck is removed and replaced. Sounds pretty clever.
A skinnier, "viaduct light" option is not possible without scrapping this construction plan, and that's simply not going to happen. Indeed, one of the primary selling points of WSDOT's elevated proposal has always been the three to nine month period the viaduct would be totally closed in both directions, compared to several years for a tunnel.
"One of the things this option can do, that others can't, is keep traffic moving on Highway 99 during construction," said David Dye, urban-corridors administrator for the state Department of Transportation (DOT). "That was a very, very important factor."

Construction of a tunnel would close the highway completely for nearly three years.

Elevated-structure supporters such as Warren Aakervik, president of Ballard Oil, call it the only acceptable option, because it would keep fuel, parts and other goods on the move, preserving maritime business.
Sure, the whole convoluted process will take ten to twelve years, but at least it will keep "fuel, parts and other goods on the move." And oh yeah, people too.
Or would it?
Notice what David Dye says… that this option keeps "traffic moving on Highway 99 during construction." The revised Environmental Impact Statement uses similar language, stating "SR 99 reduced to 2 lanes in each direction" for about seven years.
WSDOT is very specific. We keep hearing that SR 99 will be reduced to 2 lanes in each direction. But they don't necessarily say that they'll be keeping that traffic on the viaduct.
Of course, you can't fit four lanes on a deck that only holds three, and in fact, if you read the fine print you discover that for four to five years, only the northbound traffic actually remains on the viaduct. The southbound traffic is detoured off 99 at Broad and Denny, follows Broad to the waterfront via an elbow shaped aerial trestle, and than travels along Alaska Way until Pike Street before another aerial trestle connects back into the existing viaduct.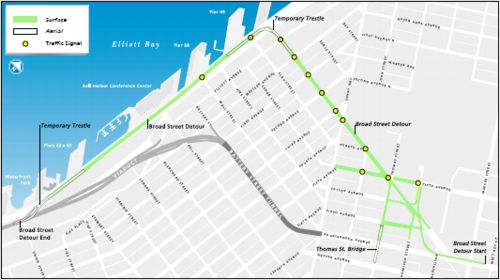 So, I guess you could say that two lanes of southbound SR 99 remain open… as long as you redesignate Broad Street and Alaska Way as SR 99. (And ignore the fact that during this entire time, Alaska Way is apparently reduced to one lane in each direction.)
Hmm. By this rhetorical logic, we could tear down the viaduct and build a tunnel while keeping SR 99 at three lanes in each direction, simply by designating Fourth and Second avenues as northbound and southbound SR 99 respectively. No fancy aerial trestles needed.
Despite what we've been repeatedly told, only two lanes of northbound 99 remain open during construction. For nearly five years, southbound traffic gets shunted onto surface streets, and that's a fact.
Other interesting tidbits from the EIS:
Columbia on-ramp closed for 45 months (the access point for anyone in downtown wanting to proceed south-bound on the viaduct.)
Seneca off-ramp closed for 24 months (the access point to downtown for anyone proceeding north-bound on the viaduct.)
Elliott on-ramps closed for 72 months (the access points in both directions for Belltown residents or Ballard, Magnolia, Interbay and West Queen Anne users who access the viaduct via 15th NW and Elliott avenue.)
Western ramps closed for 63 months (affects northbound viaduct traffic that needs to exit to Western to access the neighborhoods listed above.)
Alaska Way reduced to 1 lane in each direction for 10 full years.
The entire shebang shut down in both directions, nights and weekends, for much the construction period.
Oh, and here's one I never heard about before. SR 99 will be reduced to three lanes north of Denny — one northbound, two southbound — for 30 months. It's not clear why, or how far north, but for those of you north of Denny who thought you'd be free from disruption, think again.
Look, no replacement option can be constructed without major disruptions, but if you believe WSDOT's pitch that the Viaduct will continue to operate at 50-percent of capacity during the construction, then I have a bridge to sell you. Um… make that a viaduct.