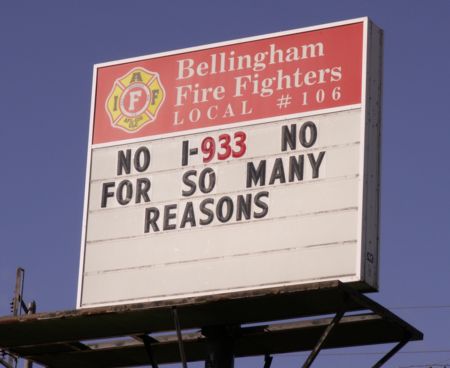 As it turns out, firefighters aren't the only people opposed to Initiative 933. So is Gov. Christine Gregoire and all six of Washington's living former governors: Gary Locke, Mike Lowry, Booth Gardner, John Spellman, Dan Evans and Albert Rosellini.
The governors criticized the initiative as a legal mess waiting to happen, saying Washington's land-use regulations aren't easy to simply disregard.

Proponents of the legislation say it was drafted to protect farmland, and Gregoire said she isn't denying that current regulations can make it difficult for farmers to operate.

"We have to keep land in farming," she said. "This initiative will not do that."

Evans added that the initiative could do exactly the opposite by increasing pressure to sell farmland to developers, who would have the same advantages as farmers under the proposal.
I suppose in defense of the initiative, one could argue that all seven governors — Democrats and Republicans alike — dedicated much of their lives to public service specifically for the purpose of screwing property owners. But then, one would have to be a lunatic.