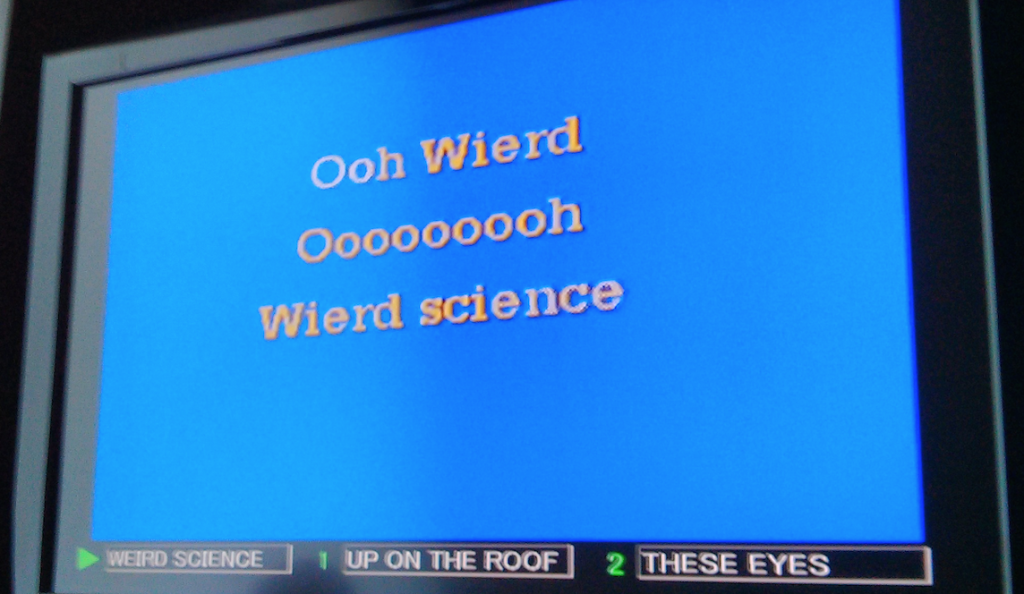 Tomorrow, as the Washington Post's Colby Itkowitz reports, Rand Paul fans will celebrate their dear leader's presidential announcement by hosting karaoke fundraiser parties in almost every state in the union. You can find a list of every Stand with Rand #LibertyKaraoke event on this Eventbrite page. The Seattle Stand with Rand #LibertyKaraoke will take place at Capitol Hill's wondrous Rock Box karaoke bar tomorrow night at 6 pm. As someone on the event's Facebook page writes, "JUST OVER 24 HOURS UNTIL LIBERTY BOOMS!!!"
What should you sing at #LibertyKaraoke parties? Organizer Matt Hurtt explained to Itkowitz:
There's no official liberty song list, though Hurtt's personal favorite is Bob Dylan's "Subterranean Homesick Blues." He often changes the lyrics in one stanza to: "The phone's wiretapped anyway, Maggie says that many say/ They must bust in early May, orders from the NSA."

The parties are intended to dispel the stereotype that political fundraisers are for "stuffy old people" at hundreds of dollars a pop, he said.
Uh. Okay. But what songs should organizers sing to identify Rand Paul's anti-choice beliefs? Maybe "The Lady Is a Tramp?" Which song would best exemplify Paul's anti-gay-marriage stance? Probably "Going to the Chapel," only with the whole room joyfully shouting "NOT" before every line of the chorus. Obviously, someone should sing that old John McCain classic "Bomb Bomb Bomb, Bomb Bomb Iran" to symbolize Paul's belief that we need to increase military spending and go to war all over the Middle East. What a fun time #LibertyKaraoke will be for the handful of delusional white men who show up! I bet a stirring conversation about 9/11 Truth will break out at the Rock Box tomorrow night, too. They'll for sure get to the bottom of the mysteries of Building 7 with all that brain power in one room!
See, the problem is that Rand Paul is trying to run his campaign as though he's got a shot with the cool libertarian-leaning tech-minded youth vote, but that train left the station a long time ago. Paul has cozied up to the neocon right over the last few months, and in so doing, he's distanced himself from the libertarian civil liberty platform that won him youthful attention in the first place. These karaoke parties are about as fanciful (and effectual) as the Ron Paul blimp.