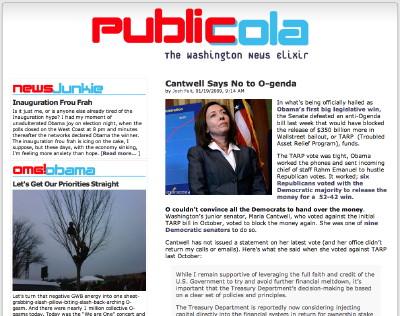 The sudden collapse of our local news industry and the resulting mass exodus of political reporters is a bitter pill to swallow for those of us who believe that maintaining a vibrant Fourth Estate is absolutely critical to maintaining a vibrant democracy… but… well… every crisis also presents an opportunity.
That's why I'm pleased to be playing my part in the launch of Publicola, Washington state's newest news and opinion site.  Largely the editorial creation of former Stranger news editor Josh Feit, Publicola strives to help fill the void in state political reporting, while providing the kind of fresh writing and analysis online readers demand, and Josh has made great strides toward that goal by recruiting the likes of Sandeep Kaushik and Glenn Fleishman to help contribute to the site.
Publicola is also the first of a series of new and existing blogs and other websites to join HA under the umbrella of the newly created JOA News Co-op, an ambitious effort to share resources, content, traffic and revenues while creating a sustainable (and ultimately profitable) business model.  This new JOA is less of a business agreement and more of an ecosystem of tools and services… but more on that later.
In the meanwhile, be prepared for some big changes here at HA as I start to roll out the full suite of new features I've been developing.  And wish us luck.