A new poll was released today in the Washington Senate race by Elway. The most interesting part of the poll was the head-to-head match-up between Sen. Patty Murray and perennial candidate and real estate salesperson Dino Rossi. Dino is, of course, best know as the loser to Christine Gregoire in the 2004 gubernatorial election and post-election challenge of the contest. He is second-best known for losing handily to Gov. Gregoire in 2008.
Elway polled 405 registered voters, of which 352 went for either Murray or Rossi. The respondents gave Murray 47% to Rossi's 40%. If we normalize this poll (i.e. look only at the 352 who had an opinion) Murray is at 54% to Rossi's 46%. As usual, I'll approximate the probable outcome of a hypothetical election held today using Monte Carlo simulations. A million simulated elections of 405 voters at the percentages observed gives Murray 853,011 wins to Rossi's 138,593 wins. The results suggest that if the election was held now, Murray would win with a probability of 86% and Rossi would wins with a probability of 14%. Here is the distribution of results from the simulated elections: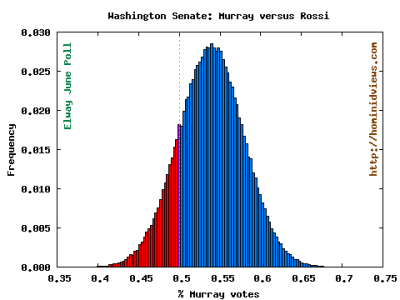 Goldy has more analysis of this poll and what it means for the November election.
(Cross posted at Hominid Views.)